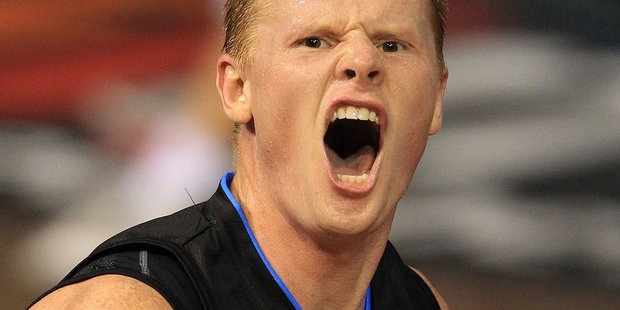 When you have to win a faux playoff series just to put yourself in contention for the post-season, you know something hasn't gone quite right.
But that's the reality facing the Breakers as they welcome the red-hot Sydney Kings to Vector Arena tonight before they head across the Tasman for a return encounter next Saturday.
Given that 9-8 Sydney occupy fourth spot on the NBL ladder and the 7-11 Breakers are hovering two places below them, the next two games are essentially boom or bust for Dean Vickerman's side.
Win both and they can continue their push for an unlikely spot in the playoffs, or lose and they can all but forget about making the top four, given Perth, Adelaide and Melbourne are comfortably placed as the leading three teams.
"We are talking about this as our playoff series to get to the playoffs," Vickerman said.
"To beat Sydney in a series right now is huge for us trying to get a position; that's the way we are treating it and we hope our fans are treating it the same way and they come out in hordes and we just have a great advantage at home with our home crowd."
The Breakers will have to deal with the continued absence of centre Alex Pledger, who remains on the shelf because of a nagging ankle problem.
Off-season surgery seems likely for the 2.13m 26-year-old, but Breakers physiotherapist Anousith Bouaaphone said that would be confirmed when more information was known about the injury after an MRI scan.
"There's a good chance he could make it next week," Bouaaphone said.
"He's had the ankle spurs for a long time, it's just flared up, that's all. So it's just a waiting game at this stage to see how it settles."
One of the long-term concerns would be whether Pledger could have any potential surgery in time to allow him to recover before August's World Cup in Spain, where he would be a crucial part of the Tall Blacks.
On a more pressing note, Pledger's unavailability means a continued run in the Breakers for veteran Casey Frank, who was pulled out of the commentary box to join the team earlier this month.
"He's been extremely active and motivated to help this group as much as he can," Vickerman said. "It's gone on for a few more games than he might have thought to start with and we love having him around and he's a great personality."
Import forward Gary Wilkinson will also have to take on plenty of work tonight. "Gary matches up well with Sydney," Vickerman said.
The Breakers head in to their mini-series against Sydney with decent form behind them after they beat the Wollongong Hawks 106-101 on the North Shore last week, but Vickerman said his men needed to keep their focus on the defensive end.
"Getting everyone to buy in to the defence has been the [main] improvement in the second half of the year."
- APNZ