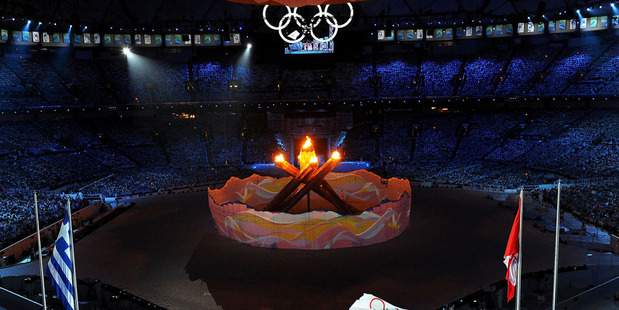 Just when the gay rights controversies were threatening to overshadow the upcoming Winter Olympics, the mayor of Sochi issued a timely reassurance nearly a week out from the start of the Games.
Asked whether his country's anti-gay laws would cause problems during the Olympics, Anatoly Pakhomov claimed there are no gays in his village so it wouldn't be an issue at all. Yes, despite scientific and empirical evidence to the contrary, in Sochi - a city of 350,000 - there is not a single homosexual. Phew! Problem solved then.
However, when further pressed Pakhomov admitted there could possibly be the odd gay living among them, but "he doesn't bloody know any".
His clumsy attempts to defuse the situation were matched by Russia's leader, President Vladimir Putin, whose defence of his country's anti-gay laws pretty much amounts to "some of my best friends are gay". Doing the international media rounds to try to shift the perception that Russia is unenlightened on LGBT rights issues, Putin insisted he had a number of gay friends, before bizarrely adding he was a big fan of Elton John.
Apparently as a gesture of acceptance and tolerance we should all download Rocket Man to our playlists.
Both politicians insist that gay athletes travelling to Sochi for the Games needn't worry as despite recent measures outlawing "propaganda of non-traditional sexual practices" and moves to prevent discussion of homosexuality on the news or in public demonstrations, the city would be tolerant of gay visitors. But their assurances are delivered with subtle undertones of intolerance.
"Our hospitality will be extended to everyone who respects the laws of the Russian Federation and doesn't impose their habits on others," Pakhomov told the BBC.
The message to the athletes and Olympic delegations is clear: you can be gay - just keep it to yourself.
What New Zealand's Sochi-bound athletes must wrestle with is what silence on the issue represents - simply a sign of respect and good manners towards the host nation or tacit approval of a law that appears at odds with the Olympic charter? Then there is the fear that the newly invoked law is so vaguely defined that it can be used to prosecute someone just for wearing a rainbow T-shirt or holding hands with someone of the same sex in public, let alone speaking out.
So far the example being set by Olympic officials is to remain tight-lipped. The International Olympic Committee and other high-ranking sports officials have been reluctant to condemn Russia's stance, using the excuse that politics must remain separate from sport.
And yet everything about the Olympics is political - right down to the very selection process that saw Sochi awarded the hosting rights.