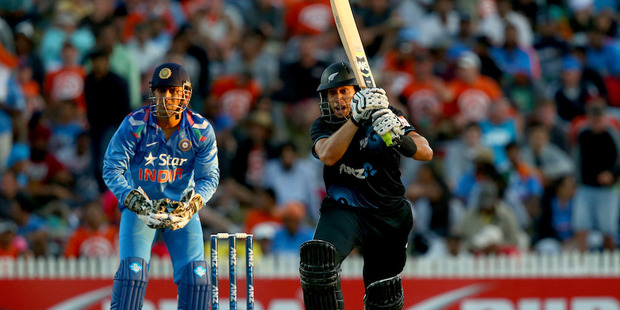 India 278-5
New Zealand 280-3
New Zealand wins by seven wickets with 11 balls remaining to take an unassailable 3-0 lead in the five match series with one match to play.
Ross Taylor's ninth one-day international century eased New Zealand to an epic one-day series triumph over world champions India, a victory it's hoped will resonate as much with the Indian board and a divided global game as it will with local fans.
Taylor demonstrated his match-winning prowess with 112 off 127 balls to reach the 279-run target with seven wickets and 11 balls to spare.
New Zealand added India to South Africa and England as top-four ranked ODI teams they have beaten in series in just over 12 months.
It marks the second time after the 5-2 triumph in 2002-03 that New Zealand have beaten India in a bilateral series of three or more ODI matches.
Captain Brendon McCullum says imposing themselves was important in taking an unassailable 3-0 lead with a match to play. New Zealand move to seventh in the world rankings, India slip to second.
"We want to show we're capable of succeeding against the best teams. I'm delighted to play a team of that class and come out on top. This was the No.1 team in the world when they arrived."
Taylor has avoided recent headlines despite scoring 55, 57 and 17 before last night's ton; not any more. When Taylor plays well it's not the big shots that garner attention; it's the deft late cuts and the will to resist slogging through the legside. Last night he only scored 14 runs between backward square leg and mid-wicket; remarkable when his trademark shot is considered the slog sweep.
"I've practiced working on my top hand [shots] for a while. It's pleasing to hit to other areas and give the opposition something else to think about," Taylor said.
Taylor was supported by Kane Williamson (60 off 82 balls - his fourth consecutive half-century) and McCullum (49 not out off 36 balls). In contrast to Taylor's subtleties, McCullum never looks more imperious than using his feet to drive on the up over cover. His effort in the 42nd over produced an echo which was probably heard in Raglan.
India's 278 for five looked competitive on a pitch which was expected to slow as the evening progressed but their pace bowlers struggled.
"You want your bowlers to hit back of a length on the line of off stump," Indian captain Mahendra Singh Dhoni said. "Right from the start we gave away too many boundaries by giving batsmen too much width. The spinners bowled well but our fast bowlers were disappointing."
Dhoni (79 off 73 balls) and Ravindra Jadeja (62 off 54 balls) had an unbeaten sixth-wicket stand of 127 which kept India in the contest.
India faced a New Zealand attack lacking Mitchell McClenaghan and Corey Anderson who were rested. Jimmy Neesham played his first match of the series while Kyle Mills returned.
India struggled to force the run rate early, resulting in makeshift opener Virat Kohli skying a Tim Southee short ball to square leg at five for one in the fourth over. Likewise Ajinkya Rahane was caught hooking to long leg off Kyle Mills in the ninth, leaving the visitors at 22 for two.
Southee and Mills deserve credit for their discipline in the first nine overs. They rarely erred with half volleys or by drifting onto the pads. The first boundary came in the seventh over from Rohit Sharma who had to force the pace. Seventeen of his previous 23 balls had been dots. Taylor dropped a regulation Sharma slips catch off Southee to start the eighth over. Sharma was 14 - he finished on 79. Taylor might have put it out of his mind had the big screen not played it half a dozen times in front of him. Perhaps it was the spur he needed.

SCOREBOARD