Opportunity to claim series against best side in world vital test ahead of World Cup.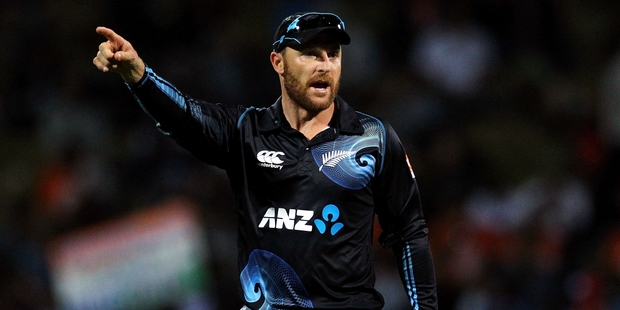 Today represents the sixth time in just over a year where New Zealand have the chance to seal a one-day international series.
In two - away against South Africa and England - they succeeded.
In the other three - home against England and the West Indies and away against Sri Lanka - they failed.
Up 2-0 against world champions India with two matches to play, the New Zealanders cannot afford to squander a chance to secure ODI cricket's biggest scalp at Seddon Park in Hamilton today.
In South Africa the team appeared to survive on pride and adrenalin. Obliterated in the test series without Ross Taylor, they relied on rolled-up-sleeves graft to triumph in the ODIs. Kane Williamson's 145 not out provided the catalyst against a Dale Steyn-less attack in Kimberley.
In England, the New Zealanders produced an ODI performance in Southampton which would normally only be a figment of Kiwi backyard cricketers' imaginations. Martin Guptill made 189 not out, the country's highest ODI score and Williamson, Taylor and Brendon McCullum added century partner-ships for the second, third and fourth wickets to reach 359 for three.
Mitchell McClenaghan's three for 35 from 8.1 overs sealed a comprehensive performance.
However, several results have slipped from New Zealand's grasp; batting meltdowns have been the culprit in most clutch games, an area which has seen improvement this series with first innings totals of 292 for seven, 271 for five and 314.
First was the home one-day series against England. New Zealand triumphed in Hamilton but stumbled to 269 in Napier and 185 at Auckland. England pounced.
Next was the chance for a rare sub-continent series win in Sri Lanka. After a no-result followed by a win in Hambantota, none of the top five could muster a score of double figures in the chase for 163 in 25 overs.
Still, New Zealand's incumbent top five can hardly be blamed. The personnel responsible were Tom Latham, Anton Devcich, Rob Nicol, Grant Elliott and Colin Munro.
The incumbents can be held to account for the defeat in the decider against the West Indies which divvied the series 2-2. The top five mustered 54 runs between them before New Zealand was bundled out for 160 in the 30th over. However, on this occasion there was an element of sympathy for the batsmen after a wild bowling effort conceded 363 for four.
These next two games are crucial to building a World Cup jigsaw. Satisfaction and a hint at relief came with the tie in Auckland but, at 184 for six, New Zealand was favourite to win. Not many seventh wicket partnerships produce 85 runs off 55 balls. The outfield catching and death bowling are areas to be observed when the pressure next goes on.
Vice-captain Williamson believes their Eden Park effort demonstrated more maturity than complacency. "You know what they're capable of but you can sometimes let go. They get away but you get a wicket and pull it back and for some reason you can be quite calm. I think we have been in the last few games."
"Hamilton's a good test for us," McCullum said. "We are playing against the best and we have been confronted with some pressure situations. We're learning a lot about ourselves which should hold us in good stead in 12 months [for World Cup]."
Reading of wide laws too narrow
Umpires need to take a less draconian approach to limited overs wide laws if bowlers are to keep a suitable arsenal of tactics to deal with batsmen capable of swatting 20-plus runs an over.
Saturday's third ODI produced 25 wides (11 to India, 14 to New Zealand). Most were reasonable calls, but several made the umpires look like past batsmen getting utu.
If a batsman with a compressed willow bat and enough protective gear to survive a riot has to back away to the leg side, bowlers should be within their rights to follow. That's pragmatic play meriting reward, not punishment. A bowler shouldn't have to land his delivery in the traditional channel just so a batsman can swing through the line having created more room.
In limited overs cricket batsmen benefit from boundary ropes like gastric lap-bands and a majority of fielders cramped in the 30-yard circle. Bowlers have yorkers, bouncers, slower balls and swing deliveries in their armoury. Often it must feel like fighting a forest fire with a water pistol.
Under the standard ODI playing conditions, the law for ruling a wide is subjective.
Law 25.1 states: "Umpires are instructed to apply very strict and consistent interpretations in regard to this law in order to prevent negative bowling wide of the wicket. Any offside or legside delivery which in the opinion of the umpire does not give the batsman a reasonable opportunity to score shall be called a wide."
Leg side deliveries present the biggest debate. Yes, it can be considered "negative bowling" but there is risk too. International batsmen should have the footwork and dexterity to dispatch such balls. The leg side is a gift target. No more than two fielders are allowed behind square leg; no more than five are allowed on that side of the wicket; and no more than four outside the entire circle during an innings. If batsmen can't capitalise when a ball lands centimetres from their legs then the bowler got lucky.
Similarly a bowler using a short ball to target the head shouldn't be emasculated if a batsman can't play a hook. The genuine premise for a wide - where a batsman, playing a normal stroke, can't reach the ball - appears to be ruled too conservatively.
Teams (probable)
New Zealand: Martin Guptill, Jesse Ryder, Kane Williamson, Ross Taylor, Brendon McCullum (c), Corey Anderson, Luke Ronchi, Nathan McCullum, Tim Southee, Kyle Mills, Mitchell McClenaghan.
India: Shikhar Dhawan, Rohit Sharma, Virat Kohli, Ajinkya Rahane, Suresh Raina, Mahendra Singh Dhoni (c), Ravindra Jadeja, Ravichandran Ashwin, Bhuvneshwar Kumar, Mohammed Shami, Varun Aaron.
Pitch/forecast
Expect a fine day, a capacity crowd and runs to match the 548 in 83.3 overs from the second ODI at the
same venue last Wednesday. No reason why this contest shouldn't give both teams a fair crack.
Key players - a focus on the skippers
Brendon McCullum - a chance for the proverbial captain's knock after a series of limited overs cameos this summer. His 51 to anchor a Boxing Day collapse was an exception, as was the 60 not out to set a winning T20 total versus the West Indies. Ducks in the last two matches.
Mahendra Singh Dhoni - after promoting himself up the order, his 91 not out off 79 balls to lead India to victory at the 2011 World Cup is immortalised as one of the great ODI innings. Similar leadership could right India here. Has 146 runs from 150 balls this series; his stabilising 50 at Eden Park was overshadowed by Ravi Ashwin and Ravindra Jadeja.
Statistic to watch
Mitchell McClenaghan needs two wickets today to secure second place by himself on the list of fastest to 50 ODI wickets. If he plays it will be his 22nd match.
SCOREBOARD