Debbie Rogerson went to the National Yearling Sales at Karaka keen to do some shopping.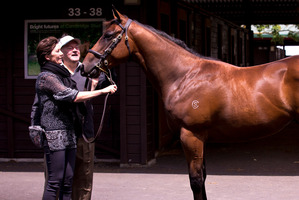 Countless top racehorses have been bought on something of a whim.
Debbie Rogerson yesterday put $800,000 on the line to take away the Fastnet Rock-Katie Lee colt on the first day of the Premier Sale at Karaka.
Husband Graeme Rogerson was involved in the bidding, but the attractive colt will be prepared from the separate barn run by Debbie, even though their horses appear at racetracks under both their names.
Katie Lee was New Zealand's champion 3-year-old of the 2009- 2010 season, winning the 1000 Guineas and 2000 Guineas and Eight Carat Classic in Sir Patrick Hogan's famous dual green colours.
Graeme Rogerson said he and his wife had been looking at the Fastnet Rock colt as a potential purchase for some time. "But it wasn't until we were driving here this morning that Debbie said: 'I'm going to buy that colt.'
"Up until that she had been humming and hahing."
Graeme Rogerson said his wife already had 70 per cent of the horse committed for sale.
"You don't get offered horses like that to train. This is a great opportunity for Debbie. Sir Patrick has always been a great supporter of Debbie's."
Rogerson has had almost a love affair for Katie Lee, a difficult filly to manage at the stable and just as difficult to beat on the racetrack.
"She was always a character. When it was wet she wouldn't go, but on a dry track she was just about unbeatable. When she won the 2000 Guineas there wasn't a horse in Australasia that would have beaten her."
Sydney's Gai Waterhouse opened her Gucci purse, paying $150,000 for the filly by first season sire Makfi from Hurricane Mist and $320,000 for the High Chaparral colt from Karmann Ghia. Duncan Ramage paid $280,000 for the Fastnet Rock-Glamorous Girl colt and the the Savabeel-Glamour Puss colt went to Peter Moody for the same price.
Hong Kong-based Paul O'Sullivan went to $200,000 to secure the O'Reilly-Honolulu colt and England's David Redvers paid out $200,000 for a Makfi-Illuminates colt. Other $200,000 purchases included the Pins-Natural Rhythm colt purchased by Bruce Perry.
Bloodstock manager Duncan Ramage went to $410,000 to secure the attractive Commands-Octapussy filly and the Hong Kong Jockey Club paid $400,000 for the Fastnet Rock-Ocean Pearl colt.