Wellington Cup victor has come a long way in a short time after injury interrupted career.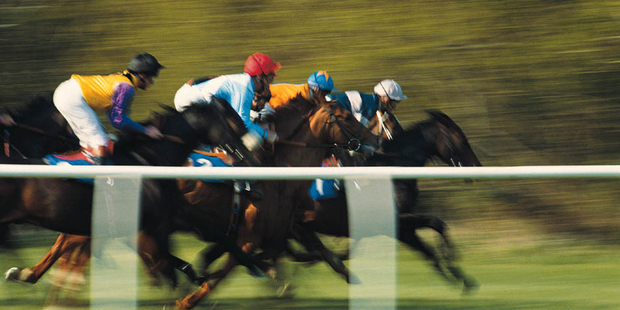 Trainer Bart Cummings must just love Graphic's $200,000 Wellington Cup victory on Saturday.
You can never quote too often the words of someone who has won 12 Melbourne Cups.
Patience, Cummings says, is the only free element available for a racehorse and very few use it.
Graphic is a magnificent example of what patience can achieve with a horse.
He is now a 5-year-old and had his first race 13 months ago and was then sidelined for nine months with injury.
The first win came just 12 weeks ago, yet on Saturday he looked like a rugged stayer that had been competing against the best for a couple of seasons.
Remarkably, his sire Volksraad is much better known for producing short-course horses and his dam sire is Kingdom Bay, who was himself best known as a sprinter-metric miler. The stamina almost certainly comes from maternal grandsire Grosvenor.
Owner Chris Grace qualifies to compete for racing's greatest supporter. His green-and-yellow colours win races everywhere, but Saturday's Cup was the second biggest moment of nearly half a century.
"This thrill is second only to winning the Wakefield Stakes with Hakawai many years ago," says Grace.
The victory was a triumph for 24-year-old co-trainer and ex-jockey Chad Ormsby and for 23-year-old rider Craig Grylls, who had probably his best day on a racetrack, also winning the $200,000 Thorndon Mile on outsider A Touch Of Ruby.
Graphic was having his first open-class start and A Touch Of Ruby was a $48 chance, yet Grylls displayed admirable dedication to get his weight down to 52kg for both rides.
The effect was so severe, Grylls had to prematurely dash away from the Cup presentation to be sick.
Graphic has shown dramatic steps upwards with each of his races since his maiden victory and who knows if that has yet plateaued. Further improvement might see him in the Melbourne stable of co-trainer Mike Moroney and, who knows, a rare spot these days for a New Zealand horse in a Melbourne Cup.
Wellington Cup favourite More Than Sacred was put out of business when Leith Innes' saddle slipped coming out of the barriers and well-fancied O'Fille finished second last, her rider declaring she was feeling the firm track. And/or the joints jarred from racing on a tarmac-like Trentham track the week previous.
Sydney financial whiz Max Whitby creates a bold image on a racetrack and his mare A Touch Of Ruby did the same when she brushed aside her group one opposition in the Thorndon Mile in what was always going to be her last raceday start.
A Touch Of Ruby is in foal to Jimmy Choux, and the only downside to the victory was the $500 fine stewards extracted from trainer Stephen Autridge for not advising the mare was in foal.
So, the bloke who won the $300,000 share of the first Triple Trio says that as a 73-year-old he's too old to spend it and has told his family to do what they want with the money.
Question: Why the hell did
he take a ticket?