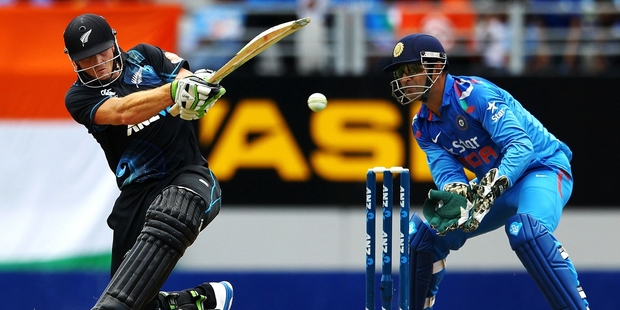 The Virat Kohli handshake probably gave New Zealand opener Martin Guptill the best gauge of the impact his fifth one-day international century had on India last night.
Guptill holed out to a trampoline catching effort from Ajinkya Rahane at deep mid-wicket after giving the hosts' innings a similar spine to his 81 against the West Indies in Nelson.
Kohli rushed across from wide long on to long off, a trek of about 50m, to make the exchange rather than join a huddle of his team-mates.
The ton was Guptill's second at Eden Park - his first was on debut in January 2009. He struggled for singles at times, but, on a ground with some of international cricket's shortest boundaries, he again proved one of limited overs' cleanest strikers of pace bowling, going to 111 in 129 balls. His dismissal came as a shock; his accumulation hinted a New Zealand crowd might be about to witness what Southampton did last year when he made New Zealand's highest one-day score - 189 not out - against England, an innings where he wafted his bat like a magic wand.
If there was a quibble, it was the five dot balls Guptill faced off Ravi Ashwin during the power play before pushing to long off for his century.
He doesn't yet appear to be at the Kane Williamson or Ross Taylor level for finding the gaps. Still, 99 is not the easiest time for rotating the strike.
Importantly, Guptill gave the innings structure; a theme of the New Zealand one-day summer. A top order player has regularly taken responsibility in the 50-over format. When Guptill exited, New Zealand were humming at 224 for four in the 38th over. They went at seven and a half an over for the remainder of the innings. The cheap dismissals of Brendon McCullum (0), Corey Anderson (8) and Ross Taylor (18) suffocated hopes of surpassing Australia's record first innings score of 336 for four which New Zealand chased down in February 2007.
Guptill was equal to most short balls although Mohammed Shami got one to kiss the silver fern on his helmet in the second over.
The New Zealand opener lost no courage in the aftermath, hooking and pulling at will on a true batting wicket. All but two of Guptill's 14 boundaries came off pace bowlers.
However, it seems unlikely Guptill's effort and recent Plunket Shield success will be enough for a recall to the starting XI in the tests.
That squad will be announced this morning.
The selectors are expected to opt mainly for the status quo of players who defeated the West Indies 2-0.