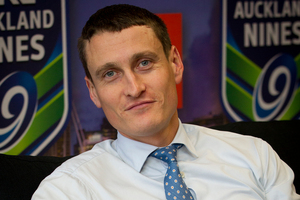 Organisers of the NRL Auckland Nines have installed temporary seating to increase Eden Park's capacity after the event sold out.
More than 44,400 tickets have been sold for the two-day event on February 15 and 16, making the Nines the first non-All Black test match to sell out the venue since the 1992 Cricket World Cup semifinal between New Zealand and Pakistan.
Promoter David Higgins, of Duco Events, said the extra seats would go on sale on Tuesday at 9am.
"I'm pleased to confirm the Dick Smith Auckland NRL Nines has sold out," Mr Higgins said. "We've filled the stadium to 44,400 people per day, so we've just completed a deal with Eden Park to make available a further 1,600 temporary seats."
At $299 each, the final few seats won't be cheap. But their prime location and the nine hours of entertainment on offer each day meant they were fairly priced, Mr Higgins said.
"We're calling them diamond seats because they are right by the North Stand sideline so probably the best seats in the house. They are on sale this Tuesday at 9am and we expect them to go very quickly."
Auckland Council events arm Ateed, which is providing $9 million of funding over five years for the tournament, was "absolutely thrilled" it had exceeded its year one projection of 35,000 ticket sales, general manager destination and marketing Rachael Carroll said.
The sellout showed Auckland could create its own events and "get it right first time", Mrs Carroll said.
"That's something we really have to celebrate. It's far easier to take an established event from overseas and bring it here."
Creating an event such as the Nines required a "certain leap of faith" that it would sell tickets and generate support from ratepayers and the business community.
The event had also exceeded Ateed's projections for overseas and domestic visitors. More than 6,000 spectators, mainly from Australia, will visit and more than 15,000 domestic travellers will head to Auckland for the event.
"The way the rest of New Zealand has embraced this is fantastic," Mrs Carroll said.
Mr Higgins said the high uptake of tickets from outside the city showed the event's appeal and potential to become a regular fixture on the national sporting calendar. Visitor numbers from Australia would increase once the event got television exposure.
State of Origin matches attracted up to 20,000 interstate travellers and he believed the Nines would eventually match that.
"This product hasn't even been on television yet in Australia, and we expect a huge viewership there as the event will appeal to every club's fanbase.
"That's one big advertisement for Auckland City. Imagine if we get to the point where there are 20,000 people coming out of Australia? In my opinion that's very possible, very soon."

Figures
• 44,400 - Tickets sold
• 1,600 - Temporary seats installed
• 92,000 - Expected crowd over two days
• 6,600 - Overseas visitors
• 15,000 - Domestic visitors to Auckland