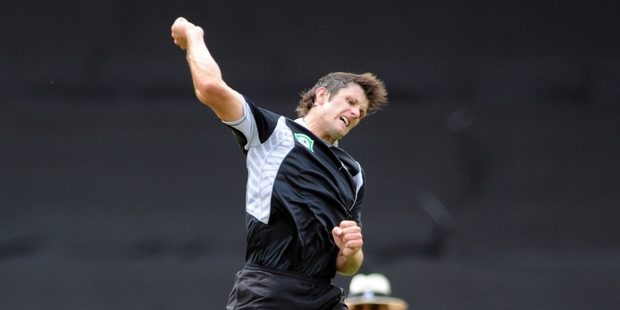 The Brendon McCullum-Mike Hesson regime is on the cusp of its biggest one-day international series triumph in today's third match against India.
Victories away in South Africa and England were laudable but to defeat the world champions just over a year out from the next World Cup would be a further tribute to consistent team selection and players who have been given the freedom to express their skills within an aggressive New Zealand structure.
"Good sides win series consistently and that is where we want to get," said strike bowler Tim Southee. "That is the approach Brendon and Mike have brought by showing we can go out and play our natural game. We are an exciting batting line-up with ball strikers all the way down. If they put the runs on the board again, it will allow us bowlers to be aggressive all the way through the innings."
A win cannot be assumed but there is every opportunity for the team to keep taking the public with them if they achieve one, especially in the shadow of the crisis created by an Indo-Australo-Anglo axis threatening to flex its muscle and the expectation they will further ostracise smaller test nations.
Presumably New Zealand administrators have some inkling the country will still tour regularly, judging by the calmness with which the likes of board member Martin Snedden have addressed the situation. A series victory can only enhance New Zealand's reputation. Maybe Snedden et al simply have extraordinary faith this group will further showcase New Zealand's talents throughout the series in front of the sport's biggest television audience.
The focus for New Zealand today is with the bowling.
If McCullum judges the wicket to be fast, shorter balls will again be used as they were in Napier. India won't be as vulnerable to the pull or hook this time but it was a useful tactic which removed four of the visitors' top six. As a result, Hamish Bennett could make his first ODI appearance since March 2011 as a replacement for Kyle Mills. Bennett gets the ball through at a quicker pace. He'd enter as the top wicket-taker in the Plunket Shield this season, taking 24 wickets at 23.12. In the HRV Cup he took three wickets at 49 with an economy rate of 7.35.
Southee and 26-year-old Bennett go back a long way. They even travelled together to Dennis Lillee's Chennai pace bowling foundation in 2007 when not long out of school.
"The last few years must have been frustrating for Hamish with some serious injuries but he's been rewarded with a recall. He deserves another crack."
Southee confirmed the short ball will be given regular consideration.
"Eden Park does offer a bit of pace and carry and is generally a good batting surface. The small boundaries can be a bit daunting [for bowlers] but it can also swing a little. We're expecting the wicket to have more pace [than Hamilton] and the boundaries are a bit bigger square so that [the shorter ball] may come into play. We've got to remember India will adapt better as the series goes on."
Southee says their march to a series victory is again dependent on breaking the human batting safe which is Virat Kohli.
"We haven't bowled well when he first comes out which has allowed him to get in and keep going."