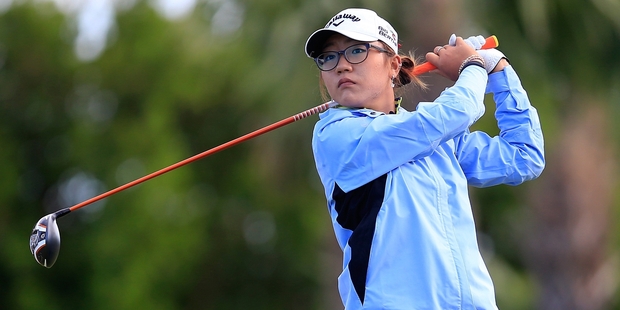 Lydia Ko wondered what all the fuss was about.
After an off-season brimming with change, Ko came out in the first tournament of the year and showed her talent remains exactly the same.
The 16-year-old shared the lead after the opening round of the Bahamas LPGA Classic, lending credence to her claims that a coaching swap, among other alterations, amounted to little in the big picture.
Now that she can again let her game do the talking, Ko revealed her shock at the scale of reaction to her signing up with David Leadbetter's United States-based golf academy.
"I was so surprised," she told AFP before teeing off. "I didn't even know it would make a story, but it was like big news in New Zealand.
"A lot of people gave me advice, saying this is what happens when you're up there. It's not always going to be good - there are going to be negatives as well.
"I kind of tried to go past it then. I talked to a couple of other players, and they supported me. I had to do what was the best for me and my situation."
That attitude appeared to reap immediate dividends on the Bahamas' Paradise Island.
With Leadbetter and Sean Hogan now guiding her, with Callaway manufacturing her clubs and with a new caddy carrying her bag, Ko was as unflappable as always in shooting a five-under 68 to lead her first start as an LPGA Tour member.
The world No4 had six birdies and a bogey on Atlantis Resort's Ocean Club course, matching South Korean Meena Lee and putting to rest any doubts her ability would be affected by the modifications.
It may be premature to think a teenager, in her nascent days of professionalism, could be sent into a slump after switching coaches or equipment, but Ko knew questions were being asked and she was intent on providing the answers.
"Over the last month, hearing the word 'change', it could pretty much be my middle name," she said after the round.
"I knew what happened before with some other players, but you never know what's going to happen. That slump stage, you never know when in your career it will happen.
"It's good that I got off into a good start and it will definitely help with the rest of the season. I guess the change was quite big, but I wanted a challenge."
The challenge for Ko throughout the year will be finding new ways of surprising the New Zealand sporting public.
Leading tournaments will soon meet expectations, rather than be cause for elation, especially the further removed she becomes from the coach controversy.
But Ko will continue to apply pressure on herself and, with 10 players just a shot back in the Bahamas, that can only aid her title prospects.
"Most of the time, if I feel pressure about expectations, it's about self-pressure and self-expectation. My mum said yesterday, 'just go out there, have fun'.
"I'm never going to always play under par. [I] just tried to keep my mind positive and, yeah, just hit the white ball.''
Not too much fuss involved, then.
- APNZ