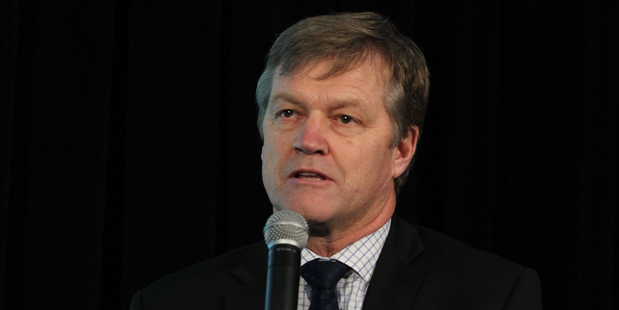 When Frank van Hattum stepped down from his role as New Zealand Football chairman yesterday, the organisation lost their third senior official in seven months.
After almost six years at the head of the game, Van Hattum cited increased work commitments in his day job at BP as a reason for joining former All Whites coach Ricki Herbert and former chief executive Grant McKavanagh on the sidelines.
It's a great loss of intellectual property but also a good opportunity for new, hungry leaders to push the game forward.
Former London Irish rugby boss Andy Martin will start next month as the new CEO while the hunt goes on for a new All Whites coach and now a new chairman.
"It's a really good time for New Zealand Football, it's the start of a new phase,'' said van Hattum. "With a new CEO starting, a lot of work needs to be done over the next three or four months and I have to go to Wellington every week for work.
It's simply become an intolerable situation for me.
"Football's in good heart. It's financially sound, it's sustainable and there is a progressive plan. When I started the budget at NZF was around $4 million, now it's closer to $10 million a year. It's a significantly bigger game across a wider spectrum. It doesn't mean there aren't plenty of issues to face. That's why I think now is a good time for me to stand down. I can't commit to the next phase 100 per cent.''
Van Hattum dismissed the need for more stability among the sport's executive positions with Martin poised to be NZF's fourth chief executive in five years.
"They (The CEO's) have all done good things to get to various phases. There was a recovery phase from the insolvency in 2007 and that took the game so far. Grant took NZF to the next step along the way. The game has gone forward massively under all those guys and they've done a great job. And so will Andy Martin.''
It helps NZF have money in the bank. They were close to going bankrupt in 2007, and needed a bank loan to survive, but the US$10 million windfall for qualifying for the 2010 World Cup changed everything.
Van Hattum said his legacy will likely be connected with the disappointment of the All Whites' failure to reach the 2014 World Cup but would prefer it was a wider look at what was achieved on his watch.
"I think the legacy is that the game was close to financial insolvency back in 2007 and look at the progress we've made.
"The All Whites brand over the last 10-15 years has now become a significant. South Africa started that process and cemented it big time. We learned the All Whites are significant, that people want to support them. Even though they came back from that huge disappointment in Mexico [when they were beaten 5-1 in the first leg], we still filled the stadium. There was still that passion and commitment. The football brand is very powerful.''
Making a "clean break from football governance for the time being at least'', Van Hattum also plans to transition out of his roles on the local organising committee for the 2015 Under-20 World Cup, Oceania executive committee and as trustee for the NZF Foundation.