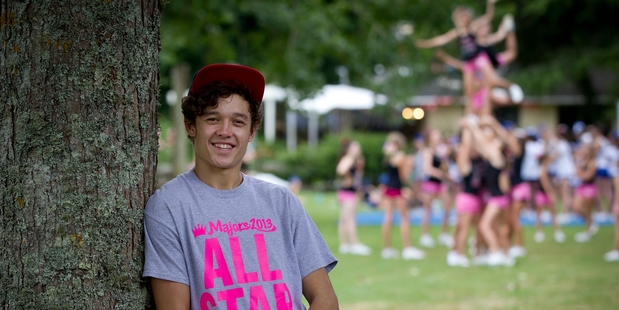 When you think of cheerleading, your first thought is probably teenage girls and pom-poms.
But half of all competitors in the sport are men and Cameron Ramsay-Gibbons, 18, is one of them.
For the Devonport local, it was the lure of a free trip to the world championships in Florida with his mother - who happens to be the founder of Auckland-based All Star Cheer-leaders - that first got him into the sport.
"Usually she'd take me along on the tour with everyone but then one year she said you can't come this time unless you join ... and that was me," he said.
At first, Mr Ramsay-Gibbons' choice wasn't the most popular among his friends.
"Originally when I used to tell people what it was they used to look at me funny," he said. "But now it's changed a lot, everybody accepts it, knows what I do and everyone's usually like 'wow, that's awesome'."
Six years on, the Auckland University medicine student doesn't regret his decision.
"I wasn't the biggest fan about it at first but then a couple of boys joined," he said. "I got to know them and made friends and then it just took over my life."
In addition to being a member of his mother's All Star squad, Mr Ramsay-Gibbons has also been a New Zealand representative for the past three years. Training for both was intense.
Normally he trained three times a week for three hours at a time, focusing on aerobics and strength.
However, in the lead-up to the world championships in April this would increase to four times a week.
Two teams of 24 are travelling to Florida and half of them are men.
Mr Ramsay-Gibbon's mother, Kimberley Ramsay, said men were there for the muscle. "They do all the heavy lifting, they throw the girls to the top," Mrs Ramsay said. "They also do the acrobatics, they do the big tumbling passes and all sorts of stuff. They're very talented."