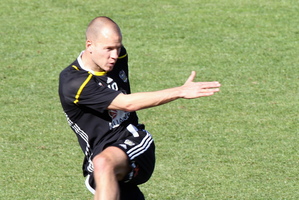 Stein Huysegems has been one of the biggest beneficiaries of Ernie Merrick's arrival at the Wellington Phoenix.
Last season the former Belgian international began his A-League career with a bang as he scored on debut for the Phoenix but the striker couldn't find his stride under previous coach Ricki Herbert as he was in and out of the starting XI.
Things have been different under Merrick this year and Huysegems, 31, is now the joint-leader in the golden boot standings with seven goals, including a hot run where he has netted five in his past five games.
Huysegems' form spike has coincided with a Phoenix resurgence and although they remain outside the top six, Merrick's side look like they are set to make a run up the A-League ladder.
They were sublime against the Melbourne Victory during last Saturday's 5-0 rout at Westpac Stadium and they will continue their mid-season charge on the road against the Brisbane Roar tomorrow night.
Carlos Hernandez and Kenny Cunningham are on international duty with Costa Rica, while youngster Matthew Ridenton is out for a week with a knee injury, which means Huysegems may be called upon to play behind Tyler Boyd and Jeremy Brockie.
After being pulled after only 31 minutes against the Western Sydney Wanderers, Huysegems has become accustomed to Merrick's ways and said the Scotsman's attitude suited him.
Despite relying heavily on his favoured left foot, Huysegems has an accurate passing game, while his ability to control and hold up the ball allows him to drop back into an attacking midfielder's role rather than play as an out-and-out striker.
Hernandez and Cunningham's places seem likely to be filled by Jason Hicks and Brockie, with Hicks likely to play on the left side while Brockie will push up front to accommodate Huysegems' move.
There will likely be a youthful look to Merrick's bench with the returning Reece Caira, Josh Brindell-South or Alex Rufer all options alongside Roy Krishna, Leo Bertos and Lewis Italiano.
- APNZ