Injured fast bowler might have to reduce bowling to 90% of his threshold to stay in the game - Martin Crowe.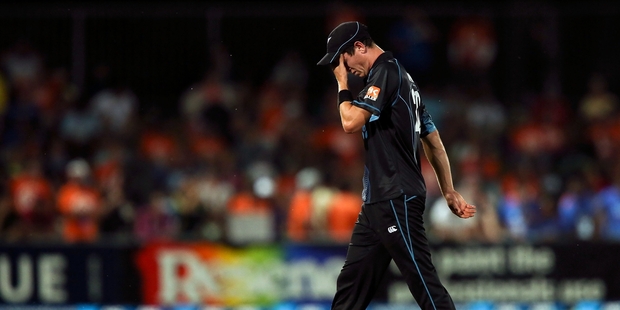 The support of past players has flowed in for Adam Milne almost as quickly as the injured pace bowler's 150km/h-plus deliveries.
Martin Crowe and Jacob Oram, international players who dealt with their own share of debilitating injuries, offered encouragement to a bowler who has captured the public imagination in a summer which has unearthed more promise than usual.
Milne's pace has joined the announcement of Corey Anderson on the international stage along with the maturing of Ross Taylor, the development of Trent Boult, the emergence of Ish Sodhi and the renaissance of Jesse Ryder as "feel good" stories for the nation's cricketing pulse.
That ended prematurely with Milne's abdominal strain in Napier. An expected six-week hiatus means the 21-year-old will return to fitness only in time for March's World T20.
Crowe acknowledges the news is devastating after Milne's recent impact but says the lay-off can be turned into a positive.
"As Adam heals it could be a time to reflect on his limitations. Sometimes as cricketers we have to accept we're built a certain way and assess how we best sustain our balance and power. That might mean he returns bowling to 90 per cent of his threshold. He's got years left in the game and a test career ahead."
Crowe cited the likes of Australians James Pattinson and Pat Cummins who are still struggling to return after stress fractures in their backs, despite promising starts to their careers.
Oram, who has played with Milne for New Zealand and Central Districts, says his first piece of advice is "don't rush back", because there is nothing more demoralising than repeating the dose.
"Adam needs to listen to his body and do everything the trainers, physiotherapist and coaches tell him. It's only natural to be disappointed after starting to make a name for himself. It's not solely about the numbers either. He's been pitching the majority of his balls in the right place, too. Potentially, he's a missing link in the team.
"Unfortunately such injuries can be a by-product of fast bowling. Biomechanists often say you're putting around six times your body weight through each delivery. Multiply that over a day's play and there's going to be a lot of stress placed on your joints, ankles, knees and back."
Canterbury's Hamish Bennett has earned a call-up to the ODI squad, although Kyle Mills is likely to replace Milne in the starting XI today.
Bennett enters as the top wicket-taker in the Plunket Shield this season, taking 24 wickets at 23.12. In the HRV Cup, he took three wickets at 49 with an economy rate of 7.35.
The 26-year-old has had his own share of ailments, including tears to the quadriceps, shoulder and groin all derived from a vulnerable front-on bowling action and dicky back.
He has been injury-free since playing the Ford Trophy last year after removing weights from his fitness programme and replacing them with a mixture of yoga, swimming, hill walking and acupuncture. He doesn't put his arms behind his head in his bowling action either.
"I've spent so much time on a bed staring at the roof [post-operation] wondering if I'd get a chance to play again. So I'm thrilled it's led to playing the world's No1 ranked one-day team. It's made those times hating my body worthwhile."
Bennett last played an ODI in 2011 against Sri Lanka in Mumbai.
Extraordinary Kohli remains prize for bowlers
"Maybe we can leave the openers in there so he only comes in later on."
That was Ross Taylor's tongue-in-cheek reaction to Virat Kohli's expected impact on the remainder of the New Zealand-India one-day international series, with the second match in Hamilton today.
Kohli shone with 123 from 111 balls in New Zealand's 24-run win at Napier. The bowlers must have had moments where it felt like delivering the ball into a trampoline. Even the 25-year-old's dismissal was a drive which would have left a vapour trail had Jesse Ryder not been parked at cover. That catch was the defining moment that ended Kohli's extraordinary record in which India had won in each of the previous 11 ODIs he'd made a second innings ton.
"He's a world-class player and has been for a long time," Taylor said.
"I played with Virat at Bangalore [in the Indian Premier League] and he was an outstanding talent, as he has been since. I've watched his progress - he's not far from greatness - he looks good even when he scores runs against you."
Unlike Shikhar Dhawan, Rohit Sharma, Suresh Raina and Mahendra Singh Dhoni who got out hooking or pulling, Kohli didn't appear fazed by a peppering from short balls at McLean Park. Often the demise of those deliveries could be heard later echoing off the boundary hoardings. That's the risk with such a bowling tactic. Mitchell McClenaghan proved a favourite, steered through the legside for three boundaries and 17 runs. But Kohli took the same numbers off the left-armer through the offside for a sum of 34 runs from 25 balls. He also drove Adam Milne's fastest delivery (153.4km/h) straight for four. Dealing with pace and bounce wasn't a problem, nor did he wilt at sprays of bowling vitriol, preferring to stare back unblinking before letting his bat reply.
The slower wicket predicted in Hamilton and inclement weather might prove a different test, particularly through the spinners - and if the pace bowlers offer further variations like slower balls. Kohli is the prize victim for any bowler this series.