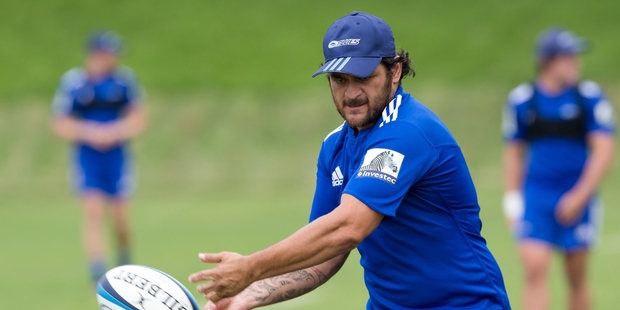 Piri Weepu is easing his way into the new season following knee surgery but is already playing an important role in Benji Marshall's rugby education, says Blues coach John Kirwan.
"He's really helping Benji," Kirwan said. "They know and understand each other. That peer coaching is probably stronger than what we [coaches] can do."
The minor surgery to Weepu's right knee in November was necessary due to an injury while on tour with the New Zealand Maori.
While his rehabilitation has restricted his training over the past fortnight, the knowledge the 71-test halfback has been able to pass on to former league player Marshall has been invaluable.
However, Weepu, 30, is at pains to point out that while Marshall is an obvious talent, his integration into his new sport will not happen overnight.
"His mentality in terms of attack is totally different to how we like to attack," Weepu said. "We like to be more square instead of running across the field - I think he's still trying to get used to that. As long as he's doing everything he can to learn his trade at 10 or fullback I'm sure he'll go really well. We all hope he does - he's pretty exciting to watch, some of the stuff he does at training, some of the boys look at him and go 'oh, did he just do that?'
"We've got to do everything possible to help him out, we can't just let him do it all. I know the likes of Francis [Saili], who has been involved with the ABs, and Ma'a [Nonu], who has been there, are able to help him out if he plays at 10. We've got guys like Charles [Piutau] who can help him position-wise if he plays at fullback."
Kirwan also said yesterday that it was important not to judge Marshall on the strength of one or two games. The former Kiwis captain's first opportunity will come on February 1 against the Hurricanes in Masterton. Weepu is not likely to be available until the third pre-season game against the Chiefs in Rotorua on February 14, a match in which most of Kirwan's All Blacks are likely to make their first appearance of the season.
Kirwan said new All Blacks Piutau, Saili, Frank Halai and Steven Luatua would all be expected to take more responsibility within the team once they returned from leave on Tuesday. Weepu acknowledged the likes of Marshall, Piutau, Nonu and Halai were exciting but that nothing was more important than good preparation.
"There's a lot of talk that we have the deadliest team on paper and to us it's no good on paper, it's about going out there and performing. In 2012 we had probably the best team but yet we weren't able to front up week in, week out," Weepu said.
Kirwan said he was expecting former All Blacks loose forward Jerome Kaino, playing for Toyota in Japan, to appear at the Blues in mid to late February.
- APNZ