Risky tactic of concentrated short-pitched pace bowling at McLean Park shows ODI experts are vulnerable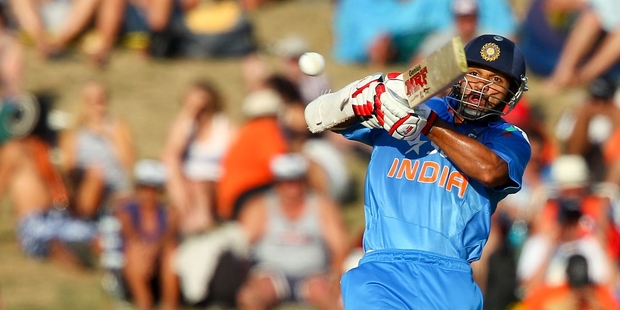 Few things are more satisfying for sports teams than when meticulous planning pays dividends.
New Zealand's 24-run opening one-day international cricket win against India provided one of those "Eureka" moments.
The analysis of frame-by-frame footage, the brainstorming sessions at the white board and the endless nets sessions seeking perfection suddenly seemed worthwhile.
History shows that accurate, short-pitched pace bowling can win matches.
Mitchell McClenaghan, Tim Southee and Adam Milne steamed in against India at Napier and their aggression proved fruitful. Regular short-pitched deliveries were a risk on a wicket in which 292 runs had just been scored with relatively short square boundaries.
However, New Zealand's hunch was rewarded. Four of India's top six - Shikhar Dhawan, Rohit Sharma, Suresh Raina and captain Mahendra Singh Dhoni - fell to balls which they struggled to hook or pull.
McClenaghan finished with four for 68 which included the wickets of Sharma, Dhoni and century-maker Virat Kohli, each of whom is in the world's top 20 ranked ODI batsmen. The match marked the anniversary of McClenaghan's ODI debut. He has now played 19 ODIs and, with 47 wickets at 19.78, will be the second-fastest bowler to 50 should he get the remainder in the next three games. His average and strike rate remain clear of Sir Richard Hadlee and Shane Bond as he fulfils McCullum's demands as an attacking weapon.
"It's satisfying to back up that faith," McClenaghan said. "The Indians are good players but at no point will we back away from a fight. We're not going to be nice. We're going to get in their face to let them know we intend to stamp our mark in the build- up to the World Cup.
"They're the best [ODI] side in the world. Leading into a World Cup in our backyard we want to show consistency and demonstrate this is the best team we can muster. We're not going to be taken lightly in 2015.
"We have plans for each guy and know we can unsettle them. Thankfully most plans worked and, if we tinker with them, we might get similar success in the next game.
"It's like when they [India] go to Aussie; they just get bombed [with short balls]. It's an asset we've got with our attack but we've got to pick and choose the grounds when we do it, given their different dimensions."
That suggests Seddon Park (for ODIs two and four) and Westpac Stadium (ODI five) might be suitable whereas pitching up might be a better tactic at Eden Park (ODI three) where a nick can finish 10 rows back.
Kohli was McClenaghan's most satisfying wicket, given it's the first time in his 12 ODI centuries chasing a target that the Indian No 3 has been in a losing side.
"He played incredibly well," McClenaghan said. "If he was there at the end I reckon we'd have lost."
Dhoni indicated his side's pull shots needed remedial action.
"One of the options is to stop playing the shot, but it's been a strength. At times we will get caught because it is difficult to play. We need to master it because you cannot always have bowlers dropping short to you."