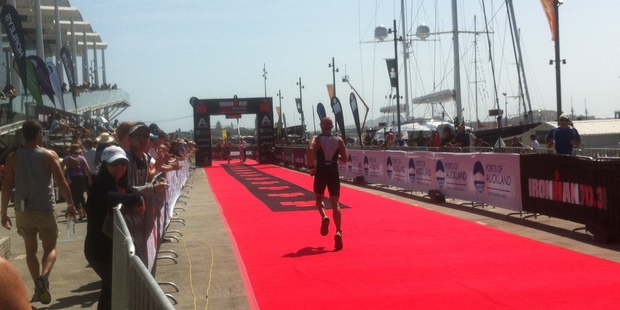 Germany's Jan Frodeno has won the men's Auckland 70.3 Ironman.
The 2008 Olympic triathlon gold medallist has completed the course in a time of three hours, 45 minutes and 38 seconds.
Australian Richie Cunningham and Kiwi Terenzo Bozzone finished in second and third place respectively, with Bevan Docherty in fourth.
Meanwhile, Australian Annabel Luxford held a two minute lead over Scotland's Catriona Morrison at the five kilometre mark of the women's event.
New Zealand's Jo Lawn is in third at six minutes back.
Down at the finish line crowds lined the route and the public decks of the Viaduct Events Centre to catch a glimpse of the athletes as they ran their final few metres of the Ironman 70.3 competition.
Loud cheers and applause went up as each competitor ran past - the loudest saved for the Kiwi athletes.
Fans and supporters said the hub of the Ironman competition was "buzzing".
Steve Barry who cycled part of the route with his 13-year-old son Liam down to the Wynyard Quarter said it was a "fantastic" day.
"It's brilliant. It's really easy to follow, we started at The Strand in Parnell and came down here," Steve said.
"There's a great atmosphere. It's a great place to be and a nice buzz."
Chris Randle and Michelle Saint were down to support a housemate, but we're cheering on all competitors as they went past them close to the finish line.
"It's been really awesome for spectators. Lots of people down there and the atmosphere was amazing," said Chris.
The event kicked off in Auckland this morning, with the sun shining on competitors.
The international triathlon event saw athletes complete a 1.9 kilometre Viaduct Harbour swim, a 90km cycle over the Harbour Bridge, and a 21.1km run along the waterfront.
The finish line, in the event village in the heart of Wynyard Quarter, a welcome sight after all that.
Supporters were lining the route to cheer athletes as they went by.
Standing out from the crowd were Leticia and Marc Hughes, dressed in colourful sombreros, bikini tops and grass skirts and proudly sporting handlebar moustaches.
The pair, from Waitakere Tri Club, we're cheering on around 12 members of the club taking part in the gruelling contest.
"It's a great day and there's a great calibre of athletes. It's brilliant to watch," said Leticia.

"It's really cool. We've got some of the worlds best out here along with the weekend warriors out giving it a go."
She said it was great to see people of all shapes, sizes, age and ability competing in the triathlon.
The couple's eye-catching outfits - bought from the $2 shop - were intended to encourage athletes, she said.
"People don't realise that coming out and cheering people on makes a huge difference to their day," she said.
"It gives them something else to focus on, hence the outfits. We've had a few looks."
Others had come out to support family members taking part in the competition.
Rob Sharp and his four children, aged 3 to 8 years-old, were cheering on wife and mum Tanya.
The North Shore woman was tackling the age group half Ironman, and her children's banners were sure to spur her on to the finish line.
Signs declaring, "I love you mummy", "Go mummy", and, "mummy is the best", were being waved over the barriers to cheer her on.
Andrea Tims was out with her two children supporting husband Richard.
Their 7 and 10-year-old sons were armed with iPads photographing all the action and preparing to snap their dad as he ran past.
- APNZ