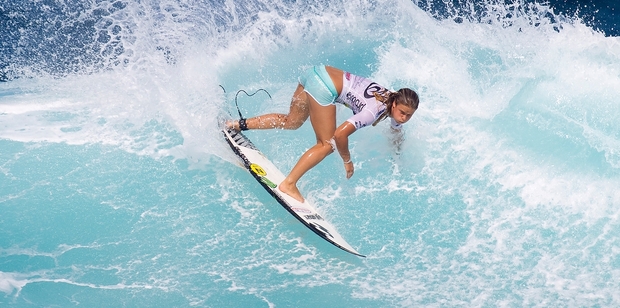 Paige Hareb has lost all her funding from High Performance Sport NZ - but New Zealand's only professional surfer is still confident 2014 could be her best season yet.
As summer hits full swing in New Zealand, Hareb is preparing to head away on her annual surfing odyssey around the globe. She won't return until November, after her sixth campaign on the ASP World Tour.
Funding is always a squeeze - Hareb reached out to the general public and surfing community for donations in 2012, such was her predicament; it costs around $70,000 in expenses just to be on the tour.
She received $20,000 from HPSNZ last year but that has since been cut - a curious decision, given Hareb's ranking and achievements, though it is understood she is a victim of the almost complete focus on Olympic sports.
She is extremely grateful to loyal sponsors such as Subaru, DHL and Mt Woodgee (she estimates she has 35 Mt Woodgee boards in her 'board room' at home) and assistance from the freight company is constantly required, as she travels most of the year with up to eight boards in tow.
Though the sport gets more competitive every year, and there is a constant wave of talented youngsters emerging ("they are always nipping at your ankles - you have to keep improving constantly"), Hareb is confident about the upcoming year.
Two of the new events on tour (in Fiji and Hawaii) will suit her strengths, while prize money on tour has doubled, which should relieve some of the constant financial pressure.
"I'm looking forward to the new competitions," says Hareb. "The conditions in both places should definitely be in my favour."
Hareb is particularly excited about the Fijian event, with the left hand break off Tavarua Island suiting her goofy-footed style. Both the Fiji and Hawaii events should also see some of the bigger waves on tour, which Hareb relishes.
"They will be super-big, heavy breakers," says Hareb. "It is extremely tricky; they are breaking on to two or three feet of water, with a coral reef below, so if you get it wrong, you will definitely leave skin on the reef. But when you get it right, it is a great buzz."
Hareb endured a frustrating year in 2013. She finished a respectable 12th overall, her equal worst placing since her debut season in 2009.
"It wasn't what I wanted," says Hareb, who was affected by off-season keyhole kidney surgery and also had an operation on her hand. "Overall, I wasn't happy but the main thing is that I kept my place on the tour."
Hareb's ongoing achievements can't be underestimated. Though it lacks the profile of more mainstream sports, surfing is a global sport and intensely competitive. Only two other New Zealanders have qualified for the ASP World Tour (Maz Quinn and Sarah Mason) but both only survived a single year on the circuit.
Staying on the tour is critical. The nine world championship events each offer prize purses of US$250,000 ($302,000) while, in second tier professional events on the world tour, the prize money can be as low as US$30,000 ($36,321).
The 24-year-old is coming off what she describes as her "best pre-season yet", supremely fit from running, biking, crossfit and gym sessions as well as daily training sessions on the water all around the Taranaki coast.
Aside from her exploits on tour, one of the highlights of Hareb's year in 2013 was a surfing adventure through Mexico, Costa Rica and Guatemala. She surfed some of the best breaks on the Atlantic coast. While surfing a remote beach on the Mexican coast, accessible only by 4WD, she also shared a few mid-morning sets with Tom Curren, the American surfing legend and three-time world champion.
"I managed to catch a few good waves and he said 'Oh Paige, that was really good'," remembers Hareb. "It was quite a thrill to hear that from him - as well as the fact that he even knew who I was."