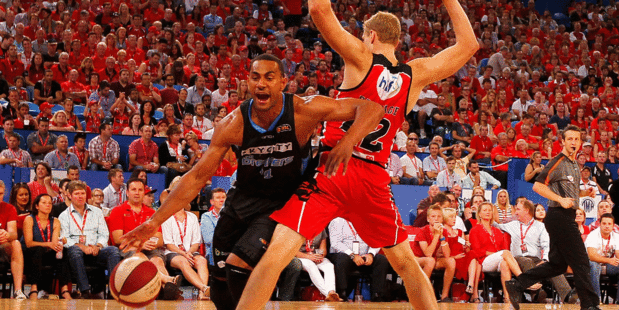 Wildcats 97
Breakers 72
A worrying trend continued last night for the Breakers as they were thumped by the table-topping Perth Wildcats.
The 25-point defeat left the defending champions teetering at 6-11 and left their task to make the playoffs growing more difficult by the game.
It was the Breakers' second-worst loss of the campaign and continued the troubling pattern of inconsistency that has plagued the Kiwi club in their quest for a fourth straight title.
Five of their six wins this season have been followed by setbacks, meaning any good work has been immediately undone and potential winning streaks have been cut short before they even began.
Incredibly, considering the way the season has gone, the champs' playoff hopes are still very much alive, but they will need to eradicate the inconsistency and string together a few victories to complete what would be a remarkable result.
The Breakers have at least finished a four-game road swing, which brought two wins and two losses, and will now enjoy a couple of games at home. But, with 11 games left, their prospects of prolonging their title defence appear slimmer by the day.
Tonight's thrashing made gave Perth a perfect record from four games against their rivals and advanced the Wildcats to 15-3 on the season. The Breakers were never in the game at Perth Arena, as the home side steadily built their lead from the opening tip.
Gary Wilkinson continued his recent glut of points by grabbing a team-high 21, while Kerron Johnson had 12 and Mika Vukona added 10 points and seven rebounds.
Perth were in front from the get go and jumped out to a nine-point lead midway through the first, shooting four of five from beyond the arc to seize the early initiative.
The Wildcats added to their fast start with a 12-3 run that dug a deeper hole for the Breakers and left them heading into the first break 13 points in arrears.
Hanging tough to begin the second, the defending champions were being hamstrung by a lopsided foul count, with the visitors hearing the whistles blow for fouls three times as often as the home side.
But the Breakers could hardly complain as they headed to halftime trailing by 20, with Perth earning their lead through impressive shooting numbers. Their 54 per cent from the floor included seven of 11 from deep - compared to the Breakers' three from 12 - and saw the game all but sown up.
The third quarter of what remained a blow-out was at least enlivened by a bit of push-and-shove between Mika Vukona and James Ennis, but the Breakers remained short of fight in other departments.
With the gap standing at 18 heading into the fourth, the Breakers never threatened to make their way back into the contest and the final result continued the clubs' contrasting fortunes.
Wildcats 97 (Redhage 24, Beal 19, Ennis 15)
Breakers 82 (Wilkinson 21, Johnson 12, Vukona 10)
HT: 57-37
- APNZ