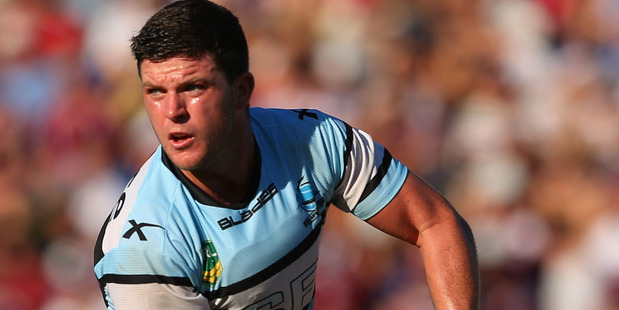 Chad Townsend says he has enjoyed every minute of his time since relocating to Auckland in November. Every minute, that is, except the one when he jumped off the Sky Tower.
That was a leap of faith to plunge 328m off New Zealand's tallest structure and it was similar to his decision to join the Warriors after spending his life and playing career in Cronulla.
He knew of a few Warriors players, having played against them before, and spent two days in Auckland last year to check out the club's facilities (it rained the whole time) but it was very much a step into the unknown for the 23-year-old.
Townsend figured he needed a change but also a chance and he might get that sooner than he might have expected with continued doubt over the fitness of five-eighth Thomas Leuluai.
Leuluai is making progress from the groin injury that wrecked his World Cup campaign and has been doing some running but his condition - osteitis pubis - can sometimes take months to get over.
He was the Warriors' best and most consistent player in the second half of last season and they won't want to be without him, but in Townsend they have a recruit who plays a similar game and who thinks he would fit in well alongside halfback Shaun Johnson.
"I think my style of play would suit his," Townsend says. "He's got that X-factor, flair and plays what's in front of him. I'm a bit more structured, calm. I like to tell people what to do."
Townsend is a former Junior Kangaroos captain but had only limited opportunities at Cronulla playing backup to Todd Carney and Jeff Robson. He was courted by the Storm, Dragons and Panthers before settling on the Warriors.
"I didn't really know what to expect at the Warriors," he said. "I came over here with the mind frame that, no matter what, I was going to enjoy it. I felt like I needed a change and it was a big decision to come here. Moving here has opened my eyes to the bigger picture of what life is like.
"You look around the locker room and you see some pretty big names with the likes of Sam Tomkins, Shaun Johnson, Manu Vatuvei, Simon Mannering. They are all extremely good at what they do, but I always back myself and my ability. I'm just hoping to nail down a position in the team and have some success."
He has already impressed coach Matt Elliott.
"He comes in as a guy who wants to succeed, who wants to play NRL," Elliott said. "He's massively competitive and highly focused on improving our footy. He's been a major contributor to our pre-season to this point. I would like to think that, like every player in our team, he's going to be competing hard for a spot. He's certainly elevated the way we operate as a team."
The full squad gathered for the first time this week with the return of the international players, including Tomkins. Vatuvei (knee, ankle) and Kevin Locke (knee) have niggles, which threatens their involvement in the Auckland Nines, and Leuluai is making slow progress.
Feleti Mateo had a minor knee operation in the off-season but is back running, Ben Henry has recovered after missing most of last season with a major knee injury and the Lousi brothers, Sam and Sione, are also nearing full fitness after injuries in 2013.
Overall, Elliott is pleased with the fitness of his squad seven weeks out from their first NRL game and hopes to have a full squad to choose from for their first game against the Eels on March 9.
"At the moment, that would be the case, which is pretty unique because last year we had 12 guys unavailable at this stage of the year," Elliott said.