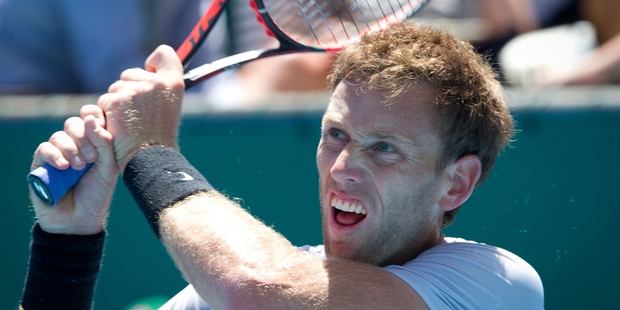 The New Zealand flag continues to be flown at the Australian Open with Auckland's Michael Venus scoring an upset win in the doubles second round.
Teaming with India's Yuki Bhambri, the pair defeated 10th seeds Horia Tecau (Romania) and Jean-Julian Rojer (Netherlands) in straight sets in another hot day in Melbourne.
The 6-4, 6-4 victory came as Venus and Bhambri combined well with good teamwork and a break of their opponents' serve once in each set.
Again it was Venus who served out the first set strongly after they had broken their opponents in the seventh game of the first set.
They started the second set in the best possible way by breaking Tecau's serve, followed by Bhambri holding his own serve to love, as almost everything appeared to go right for the Kiwi and Indian pairing.
Rojer held serve for his team before Venus won his own serve to love. Tecau then replied by not dropping a point on his serve as the score was 3-2 to the Kiwi and Indian combination.
Bhambri easily held again to make the score 4-2.
Rojer gained another game for his team and then Venus served a mixed game to take the score to 5-3 before Tecau held and then Bhambri wrapped it up with another efficient service game much to the appreciation of a large band of New Zealand supporters.
Venus was thrilled by the win over such experienced opponents and rates it a career highlight so far.
"This would have to be probably the highlight on this stage here against quality opponents. I mean you can't get much better than this.
"Hopefully I can keep it going and move it forward from here."
"They are great players and have been around for quite a while and quite highly ranked. We just came out and played some great tennis.
"We were feeling pretty good on our serves and net person cutting off for great volleys. We just stuck with what was working and it got us to the line. We are doing the little things right," he said.
New Zealand Davis Cup captain Alistair Hunt braved the heat to watch the match and believed the victory will do a huge amount for Venus' confidence.
"They played well and gave themselves a great chance of winning the match with self-belief and also a good first serve percentage. It's a very good win and will be great for his confidence for future matches," said Hunt.
Earlier in the tournament, Venus and Bhambri, who won a wildcard tournament to take their place in the Australian Open, had defeated Spaniards Roberto Bautista Agut and Daniel Gimeno-Traver 6-2, 7-5.
Venus is trying to ignore the almost A$18,000 ($19,110) he will get in prizemoney for making the third round until the tournament is over.
"It is good, I haven't checked it. I've had texts from a few friends. I told them not to tell me how much, they said it was looking good.
"I'll find out at the end of the tournament. I want to try and focus on the match. It's great to know and it will help out a lot. It's a great help."
Venus and Bhambri have an unknown opponent in the third round with a potential match-up against fifth seeds and multi Grand Slam winners Leander Paes and Radek Stepanek.
Marina Erakovic's Open ended on Thursday night in a disappointing loss when she suffered from heatstroke and couldn't match an opponent who played the match of her life.
The New Zealand number one was ousted from the second round by Kazakhstan's Zarina Diyas 6-4, 6-0 in only 74 minutes.
Late at night she and partner Jie Zheng lost their doubles encounter to cap a day to forget. The 10th seeds went down 6-3, 6-3 to French duo Caroline Garcia and Alize Cornet.
The doubles match started about 6.30pm after play was delayed due to excessive heat. It finished about 10.30pm after lightning and rain delayed it further.
Erakovic summed up the conditions in Melbourne simply. "It's just the weirdest weather ever."