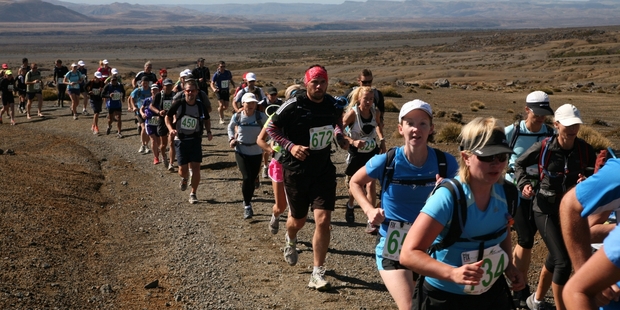 The New Year comes with resolutions, new hope and a renewed determination to be better than last year. When it comes to sport, that means being fitter, faster and stronger or taking on something new.
As a result, there are hundreds of athletes with a multitude of reasons for taking on the Tussock Traverse, one of the year's first trail runs and walks, in the Tongariro National Park on January 25.
The Tussock Traverse, which weaves through lava fields, desert, alpine track and beech forest, has proved to be a unifying goal for people from all walks of life.
Taking on a challenge with the family is a common goal for many athletes.
"My dad loves to run and to try new events," said Anna Barnes, 12, of Marlborough, who has signed up for the 6.5km run in the under-18 division.
"So, instead of waiting for him at the finish line as we always do, mum and I have decided to give the short course a go. It's also a great way to see parts of New Zealand that we might not see."
Meanwhile Nicole Bishop is getting ready for the 6.5km walk.
"This is the first year my kids will do it with us," said the 42-year-old from Murrays Bay in Auckland.
"My husband is doing the full event and the girls and I are walking the 6.5km. In previous years our kids have waited very patiently at the finish line for four to five hours for everyone to finish."
Family is also a driving force for Wellington's Sophie Ivory.
The 26-year-old has chosen to enter the 26km run to support her mum, Katherine Ivory, who moved to the Ruapehu district in early 2013.
"Mum hasn't done too much exercise in the last 20 years so entering the 26km run is a huge challenge for her," said Ivory.
"She's already started training hard and is improving well. When she started training a month ago she couldn't jog for more than a couple of minutes without stopping. We've never done anything like this together, so we're really looking forward to it."
Also up for the challenge is a youngster with plenty of ambition - Connor Goldie has signed up for the 13km event aged only 11.
"I supported mum in the 26km event last year and heard of a 12-year-old doing the 13km event," said Goldie, from Howick.
"This year I'll only be 11 so I wanted to challenge myself to do the 13km event and wonder if I'm the youngest to do it."
Lisa Williams, from Paeroa, is also looking forward to pushing herself in another way.
The 41-year-old gave up smoking three and half years ago and gained 15kg.
"I started running to lose weight and get fit and this is my first event," she said proudly.
The run is set in one of the oldest national parks in New Zealand and provides breathtaking views for the 26km, 13km and 6.5km entrants.
It is for that reason that it has also attracted a number of international competitors.
Julie Donat is a French citizen living in Tokyo, Japan, and will be visiting New Zealand for the first time.
"I am a trail runner and enjoy this activity in the archipelago," said the 33-year-old who is running the26km. I wanted to take the opportunity to be in New Zealand to run a trail. I am so excited! Hopefully it won't be delayed because my flight will be the following day."
Fellow European Charlotte Krabbenhoeft gave herself the entry for the 26km walk as a birthday gift from herself.
"I love the fantastic nature in New Zealand and Denmark, where I live, is completely flat with no mountains. I am really looking forward to this event."
All of the athletes promote the area by their entry as the event supports the ongoing conservation and restoration work of Project Tongariro in the national park.
Each competitor in the Tussock Traverse is given a tussock plant on the day to be planted as part of the community tussock revegetation programme.
Tussock Traverse
When: Saturday, January 25
Where: Tongariro National Park
Event options (run /walk): 6.5km, 13km and 26km
For more information visit: www.tussocktraverse.co.nz