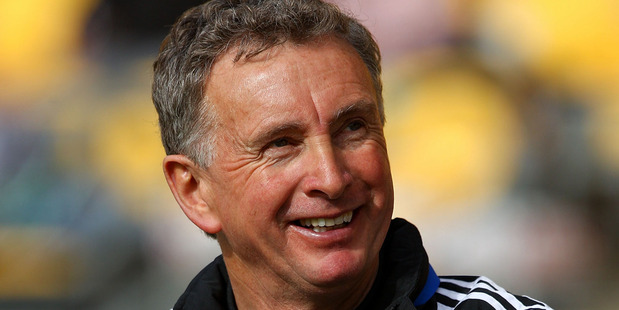 Wellington Phoenix coach Ernie Merrick has made a decision on whether he will start Tyler Boyd ahead of Jeremy Brockie against the Melbourne Victory at the Cake Tin tomorrow night, he just isn't going to reveal which way he is leaning until tomorrow.
Throughout this season Merrick has left it to the last minute to name certain players but rather than endure sleepless nights the day before a game agonizing over who will play where, the Scotsman said he leaves it late to play possum with the opposition.
"I don't make the choices at the last minute,'' he said. "They've been planned and worked on for a while. I just don't reveal them to the last minute. I try not to help the opposition too much.''
Brockie's recent goal drought and inability to impose himself on the game must be wearing thin for Merrick, who has said he wants the All Whites striker to come and look for work as a means to break out of his slump.
On the other hand, Boyd has looked dynamic coming off the bench in the past three games, collecting a couple of assists and his first goal in Phoenix colours as the 19-year-old slowly comes to terms with life in the A-League.
Boyd didn't set the competition alight in his rookie campaign last summer but has performed nicely of late and given his high work rate, he must be pressing Merrick to make a tough call and pull Brockie back to the bench.
Another wildcard is the recent signing of former national league scoring sensation Roy Krishna, who made his debut for the Phoenix against the Mariners in last Sunday's 1-1 draw in Wellington, although no opportunities fell the way of the Fiji international in his cameo appearance.
It's more likely Krishna will be worked in to the mix slowly and Boyd could be given his first start of the season tomorrow in what may be the only change to the Phoenix from last week.
"I'm trying to get some consistency,'' Merrick said as he reflected on his squad for tomorrow's game.
All Whites utility Leo Bertos is a likely candidate to join the bench to give Merrick some flexibility with his substitutes.
"His benefit is he can play a range of positions. He can play at forward, he can play in the midfield and he can play at fullback so he is good cover.''
The third-placed Victory are coming off a 3-1 win over the Western Sydney Wanderers on Tuesday night and bring a dangerous side to Westpac Stadium with Gui Finkler, Kosta Barbarouses, Archie Thompson and James Troisi all posing a threat.
Merrick acknowledged the Victory would be a tricky side to keep in check compared to the Mariners.
"Victory is a different proposition. But their proposition is they play virtually with four strikers. So we've sat down, we've worked on what we are going to do but it's a different game all together from last week.''
- APNZ