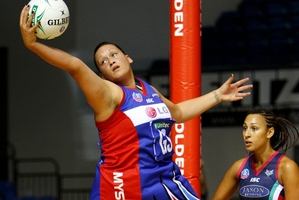 Cathrine Latu has responded to the increased competition for spots in the Silver Ferns' shooting circle for this year's Commonwealth Games by putting in her most intense off-season training effort yet.
A noticeably trimmed down Latu fronted for the team's tour to Britain this month after putting in some hard yards during the summer conditioning window.
Like all the Ferns squad, Latu was given strict fitness targets to meet ahead of what will be a busy seven months for the team. Once the squad returns from England they will have a week off before linking back up with their franchise teams and undergoing their final preparations for the ANZ Championship season, beginning March 1.
After a disappointing 2013 transtasman league, in which Latu was consigned to the bench for much of the second half of the season behind Bailey Mes, the 1.89m shooter threw herself into her off-season training. With Latu looking the fittest she has ever been, both national coach Waimarama Taumaunu and returning Mystics coach Debbie Fuller are delighted with her application.
With the battle for places in the Ferns' shooting circle the most competitive it has been for some years, it was a case of step up the intensity or be left behind.
"I haven't really had much of a holiday - I've had to keep working really hard over the summer because that is what it will take to make the Commonwealth Games team," Latu said.
Mes, the standout performer for the Mystics last season, is still very much in selection contention despite suffering a serious knee injury in the final match of the transtasman league season.
A disciplined trainer, Mes has made a remarkable comeback from a knee reconstruction to be included in the Ferns' tour squad.
While the young shooter is still not ready to play at test-match intensity, Taumaunu wanted to include her on the tour so she could remain in the Silver Ferns environment.
Along with Mes, Latu is also facing pressure for her spot from under-21 star Malia Paseka. The Sydney-raised shooter was selected as a training partner for the tour, but has been unable to take the court in the two warm-up matches against Scotland this week after suffering a shoulder injury in training. Despite the injury setback, Latu still views Paseka as a threat, particularly if she can get more consistent court time under her belt with the Magic in the ANZ Championship.
"I'm very aware Bailey hasn't taken the court yet and she is still to return to the mix and Malia [Paseka] is coming through really fast. So there is a lot of competition for places and that has put a real fire up me. I can't just sit still and hope I make it," said Latu.
New Zealand will take on Jamaica in London tomorrow in their first test of the tour. Having not faced the Sunshine Girls in a proper test since before the last Commonwealth Games in 2010, the Ferns will receive a much-needed refresher course on the Caribbean style.
The only disappointment for Latu is that Jamaican star Romelda Aiken has been ruled out through injury.
Blessed with two towering shooters - Aiken and 1.98m Southern Steel import Jhaniele Fowler - Jamaica have been making noises about converting Aiken into a defender. Aiken's long reach over the shot caused opposition shooters plenty of problems when she was thrown in the defensive circle in last year's Fast5 World Series, and the Ferns were eager to see how she would go at goal-keep in a full-length match.
"She only has to stretch out her arms and her wingspan pretty much covers the entire circle, so it definitely would have been a good test for us shooters," saidLatu.
The Ferns' shooters will however come up against a full-strength English defensive line-up on Tuesday, with Geva Mentor returning to the side after a two-year stand-off with England Netball over their selection criteria.