Careful management needed to ensure young quick can endure rigours of being an elite fast bowler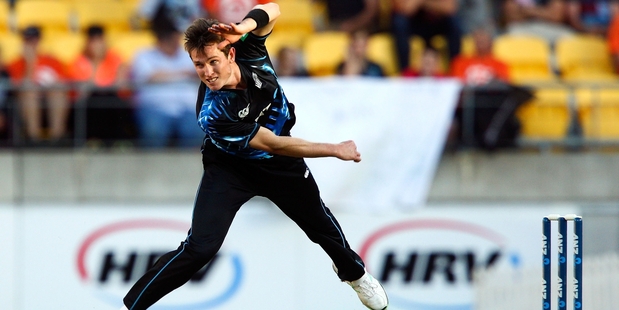 Managing Adam Milne has emerged as the most pleasing challenge of the summer.
The Central Districts paceman has created plenty of positive chatter following two impressive T20 performances against the West Indies, after clocking 153km/h on the speedball radar and showing improved control.
His returns of 1-15 and a career-best 2-22 in the series-clinching four-wicket win in Wellington on Wednesday night highlighted what he can do, but provided another reminder that such a special talent needs to be carefully managed. Public expectation might also need to be managed.
After enduring a tough introduction to international cricket when he was selected as an 18-year-old to play against Pakistan in 2010, Milne has added size to his frame and appears better equipped to endure the rigours of being an elite fast bowler.
"He's toured with us a bit, hasn't played a lot but learned a lot and certainly, physically, he's matured a lot over the last 12 to 18 months," New Zealand coach Mike Hesson said.
"So we've kept him on ice and we'll just have to pick and choose when we use him because we don't want him to be someone that bursts on the scene and then we bust him and then we don't see him for a couple of years. So it's something we've got to continue to manage."
Milne's slender build was always going to be a concern while he was in his teens and he picked up a variety of minor ailments in the early stages of his professional career.
"He's a fine bowler and he's 21 running in and trying to bowl quick," Hesson said. "We've just got to marry up that enthusiasm with trying to keep him on the park and for a long period of time. But he's exciting."
With the West Indies now a memory, India have arrived to play New Zealand in five ODIs and two tests.
The one-day series starts at McLean Park in Napier on Sunday and Milne will be fighting for a spot in the playing XI with New Zealand's 13-strong squad for the series featuring four top seam-bowling options.
Left-armer Mitchell McClenaghan, Tim Southee and veteran Kyle Mills are the other pacemen included and Hesson said only three would play at Napier.
"I think all four of the guys know there is competition for places and that's a really good thing."
One improvement Hesson wanted from his pacemen as they looked to the Indian series was some more intensity at the top of the innings.
"It's aggression in terms of where you bowl the ball, the pace and the areas you bowl. You're not just running up and putting it there and sort of hoping good things are going to happen. You're trying to make things happen."
If Milne can crank the pace back past the 150km/h mark, there's a good chance good things will keep happening.
- APNZ