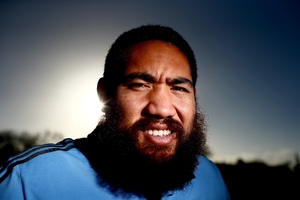 The hard work has begun early for Charlie Faumuina, the All Blacks prop returning to Blues duty in a bid to lose weight for the new season.
The New Zealand players' collective dictates the All Blacks are on leave for another fortnight, but having decided he is "probably a bit out of shape'', Faumuina returned yesterday, deciding it's easier to train with his teammates than by himself.
Faumuina, who enjoyed a family holiday in Rarotonga during his break, is the first from the national team to return fulltime to the Blues, though Steven Luatua, Frank Halai, Francis Saili and Charles Piutau have put in appearances.
"What we want him to do is get the balance,'' Blues coach John Kirwan said of 27-year-old Faumuina. "He is one of the key guys in our organisation and we are really proud of what the All Blacks have done and we want them to have a rest. But sometimes it's easier to come in and do the fitness work. It's pretty hard for these guys to train by themselves sometimes so we're really happy to have them.''
Faumuina had one of his best seasons in 2013, capitalising on Owen Franks' injuries to play 10 tests, including four starts.
But his calf problems over the past two years which ruled him out of the June series against Ireland and France mean he has to be extra careful at this time of year.
Kirwan said: "He won't be doing a lot of rugby this week... it's really hard on the All Blacks, they come back in after a long break and they want to jump back in and we just have to hold them back a wee bit.
"Guys have been coming back sporadically and getting tested and we're looking forward to getting them back. But I think it's not getting them back, it's re-integrating them into playing [which is toughest]; we play our first [pre-season] game three days after they get back. It's about having an individual programme for each of them and making sure we don't expose them too early, but we'd like them to be available for the first game.''
The Blues' first pre-season game is against the Hurricanes in Masterton on February 1.
Of former league player Benji Marshall's integration into the 15-man game, meanwhile, Kirwan said: "I said to him the other day, rugby league can be one dimensional sometimes. Everything's in front of you, everyone's running forwards or backwards, whereas in rugby union everything is three dimensional because you've got different angles. But he's a quick learner... he's been more excited about the challenges than anything else.''
- APNZ