Black Caps' bowling future looks bright as youngster hits 153km/h in T20.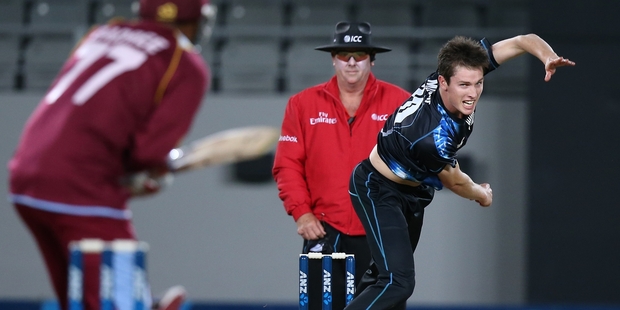 All Adam Milne wanted was a chance.
He got it at Eden Park on Saturday night and New Zealand are now looking at a future which has serious pace in it.
The 21-year-old turned on the pace in the easy win over the West Indies in the opening T20 in a way not seen since the halcyon days of present national bowling coach Shane Bond.
Depending on whether you're prepared to be unswervingly accepting of the speed gun readings, Milne sent a couple of thunderbolts down at over 150km/h and all but one of his remaining balls were in the mid to late 140km/h range.
If you have reservations about the veracity of those readings, accept this: Milne was seriously slippery - not just sharp but up with the game's quickest.
New Zealand has had a stock of quality fast-medium bowlers over the years, men who relied on subtlety, swing and seam for their success. Only rarely has this country had a bowler to put the wind up visiting batsmen.
Gary Bartlett, injury prone and inconsistent, was rated among the world's quickest in the 1960s. He took 10 of his 24 wickets in his last two tests against India in 1968. Murray Webb hurried the best but made only three expensive test appearances in the early 1970s, which leaves Bond as the other true speed merchant, although the great Richard Hadlee was no slouch in his earlier years.
Bond was quick, and penetrative but restricted by injury issues to only 18 tests, in which he took 87 wickets at 22.09, a blink ahead of Hadlee's strike rate.
On Saturday, Milne took one for 15 from his four overs and Bond, looking on, would have been quietly purring. Before the match, Bond insisted: "I've no doubt he is going to have an outstanding career for New Zealand.
"We all know the pace he bowls, he has the skills to swing the ball both ways and has good variation."
Wicketkeeper Luke Ronchi knows all about keeping to sheer speed.
During his Australian career, before switching to New Zealand, Ronchi kept to Brett Lee, among the alltime quickest bowlers, and Mitchell Johnson, who has just finished terrorising England in the Ashes romp in Australia.
"On a wicket that wasn't very quick he had some good pace going," Ronchi said. "That's the biggest thing. You can tell more of a difference on the slower wickets. He was hitting the gloves well and I was standing a good distance back."
The verdict?
"If he keeps going with that sort of pace, at 21, it's going to be really good for us."
Captain Brendon McCullum was delighted to have someone on his team firing arrows, instead of fending them off from opponents' spearheads.
"It's nice, isn't it? I'm really pleased for Adam," he said. "When you bowl as quick as he does sometimes you're going to travel, but we saw him probably have his best performance for us in a black shirt and hopefully he'll gain a lot of confidence from that."
Milne, whose injuries in the past fortunately don't include back problems, recently made it clear he relishes his ability to bowl fast.
"Obviously I want to bowl fast and try to use my pace as a weapon. I'd never try and settle for medium pace," he said.
Saturday was only his 11th limited-overs international and he has taken just three wickets, but doubts about the possibilities he brings should have been swept away. Now he needs to build on Saturday. One swallow and all that, but certainly he will get the opportunity.
Two possibilities leap to mind. Real pace is a rare commodity.
So if Milne hurries up India in their five-game ODI series starting next weekend, might that open the eyes of influential Indian Premier League franchise selectors? And did Saturday night sew up a spot in the world T20 squad for Bangladesh in mid-March?
The answers are likely to be yes and yes.
Milne on fire
Adam Milne reached 153km/h at Eden Park on Saturday.
Previous speedball radar recordings:
*Shoaib Akhtar 161.3
*Brett Lee 160.8
*Shaun Tait 160.7
*Mohammad Sami 156.4
*Shane Bond 156.4
*Dale Steyn 155.7