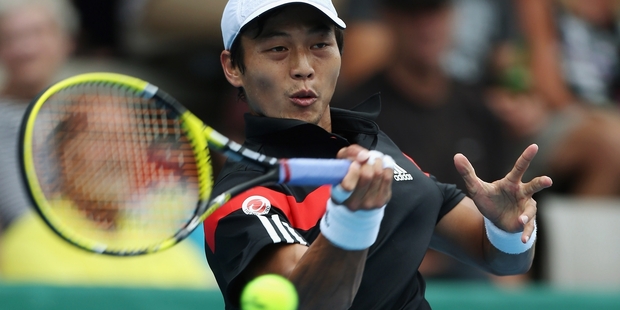 Yen-Hsun Lu picked up a cheque for US$43,450 ($52,327) yesterday for finishing runner-up to John Isner at the Heineken Open, taking his career earnings close to US$2.9 million ($3.5 million).
On the surface, it looks impressive but it doesn't tell anything of the struggles Lu has faced.
Lu is the first to say he doesn't want to be seen as "special" - but it is hard not admire his perseverance.
Yesterday's Heineken Open final was his first at ATP level in a 13-year professional career. Before this week, he had played in 10 quarter-finals and lost them all. Tennis can be lonely when you're not winning regularly, even for someone who became the first Taiwanese player to break into the world's top 100.
For a period in the mid-2000s, Lu's back was so painful he couldn't bend down to tie his shoelaces but he continued to play because his family needed the money. The pay cheque from a first-round exit was better than nothing for his mother and brother who relied on him after the sudden death of his father from a heart attack in 2000.
Since he sorted his back in 2007, and learned how to keep the rest of his body fit, he's occupied a spot in the world's top 100 and earned a good living. His biggest pay cheque came from a quarter-final at Wimbledon in 2010 but, for every decent week, there have been a lot more that have been a struggle and it's part of the reason why he contemplated retirement recently.
"I was thinking I was a little bit tired because I have been travelling for 14 years," he said. "I was thinking maybe this would be my last year. I don't know. I told myself I should try to enjoy it, even this tournament. Everything can change with the next day, the next match. I have always been working, working, working; push, push, push."
His success at the Heineken Open might convince him to remain on the tour a bit longer. After all, he dispatched four-time Heineken Open champion and world No3 David Ferrer in straight sets in Friday's semifinal.
"The last few years of my career, I always played some good matches but I didn't play consistently. This week, I showed I can play consistently every day and get to the end of the tournament. I can get some confidence from this week."
Isner, who won his eighth title yesterday, agrees.
"If he continues to play like this, he will see himself in another final. He's a very talented player and, when he's playing well, can give anyone a run for their money as we all saw when he beat the No3 player in the world."
- APNZ