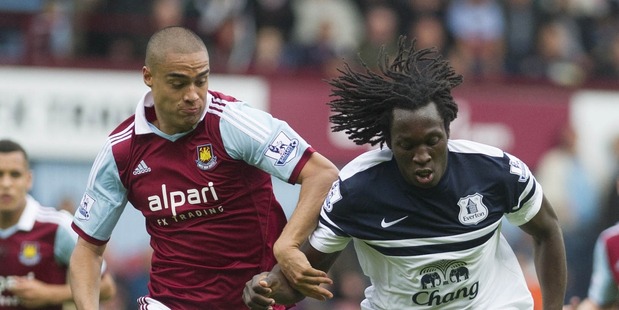 Winston Reid hopes to be back on the field for West Ham before the end of the month - and his return can't come soon enough for the London Premier League club.
Reid's importance can be illustrated by their slide in form since the All Whites captain suffered a high ankle sprain during a routine training exercise in early November.
They have won just two matches of 13 in his absence, and leaked an average of 2.6 goals per game, after conceding less than a goal a game on average (0.85) in the first 13 matches of the season.
His absence has coincided with injuries to several other defenders but there is no doubt the 25-year-old - rumoured to be an Arsenal target before his injury - has become the most important member of the backline at Upton Park.
The Hammers hadn't had a vintage start to the 2013-14 season but they were at least defensively solid, shipping only eight goals in their first 10 league games. They had recorded two wins and four draws to sit 15th on the ladder.
Their record since Reid's injury is dire, and their form has pushed manager Sam Allardyce to the brink of being sacked. They have won just one of their last 10 matches in the league, conceding 22 goals in the process. West Ham have picked up only five league points since the first week of November and now sit 19th, just one point ahead of bottom club Sunderland.
They were also knocked out of the FA Cup at the first hurdle last weekend (an embarrassing 5-0 defeat at Championship side Nottingham Forest) and were thrashed 6-0 by Manchester City in the first leg of their League Cup semifinal on Thursday. They have conceded 34 goals in 13 games in all competitions since Reid's injury.
Reid was voted Hammer of the Year (player of the year as voted by the fans) during the last campaign and was a starter for 11 of the 12 clean sheets the team earned last season.
He made a positive recovery from surgery and has told British media that he hopes to return before the end of this month.
West Ham allowed Reid some extra leave during the festive season, permitting him to spend a few days with his family in Denmark over the Christmas period.
The club also flew him to Dubai for a week in December, allowing him to escape the miserable weather in the English capital and exercise in some beautiful surroundings.
"The recovery has been going okay," Reid told West Ham TV last month. "I'm coming along and it'll be another month or so before I'm back fit. The staff around me have been working well and trying to give me the best options to get back as quickly as possible."
Reid, who was signed in 2010 by Avram Grant, took time to adjust to the top flight of British football, in and out of the squad in his first season. He has since admitted that the subsequent relegation to the Championship - and then promotion at the first attempt - was probably the making of him, allowing him to find his feet and cement a place in the side.
"In a way, it was a blessing," Reid told the Herald on Sunday last year. "[In the Championship], I got to play regularly after that first year when I was in and out of the team. It was definitely a difficult first year."
He has gone from strength to strength since then, becoming a rock for club and country.
"His game has improved out of sight," says All Whites team-mate Leo Bertos. "When he first came into the squad [in 2010], he was a quiet Maori boy and kept to himself. He was obviously a tremendous athlete but he was pretty shy. Now he has gone to another level on the field and he is also much more of a presence in the dressing room. Like Ryan [Nelsen], he is one of those players that can lift everyone else's game."
Reid's recovery is also vital on another level. A West Ham revival in the coming months is imperative, otherwise their proposed move to the London Olympic Stadium could be in jeopardy.
The Hammers are set to permanently relocate to the 54,000 capacity Olympic venue ahead of the 2016-17 season but being in the Championship would surely hinder the financial viability of such a move.