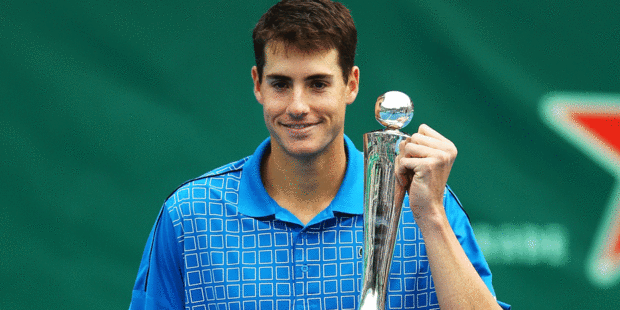 John Isner has won his second Heineken Open, beating Yen-Hsun Lu in straight sets at Stanley St this afternoon.
As he has for much of the tournament, the American made use of his powerful serve and proficiency in tie-breaks to take the trophy.
Both sets ended in breakers as Isner played to his strengths, taking the title on his third match point to triumph 7-6 (4) 7-6 (7).
"To say this was unexpected coming into this tournament would be a huge understatement,'' Isner said. "I did not expect this at all, given my [ankle injury].
"And sometimes that's how things work out - when you come into things with low expectations, the pressure's off you and things tend to work out.''
He may not have thought so but the 2010 champion appeared on paper to be favourite against Lu, who this week reached his first career semifinal. But the Taiwanese player wasn't to be underestimated, having dispatched four-time champion David Ferrer in yesterday's final four.
Isner advanced with a three-set win over Roberto Bautista Agut and the world No 14 controlled proceedings this afternoon, leaning heavily on a serve which has kept him out of trouble all week.
The third seed smashed 23 aces and won 74 per cent of points on his first serve, ceding just one break point in his first service game before never again being threatened.
"I thought it was my best performance all week,'' Isner said. "I was very happy with how I played. Apart from all the break points missed, I was extremely happy with everything.
"I felt like I was hitting the ball the best I've hit it all week.''
Lu rode his luck in saving 10 break points and two match points but Isner's unrelenting serve, which Lu later called the best in world tennis, eventually proved too tough an obstacle to overcame.
"His was just serving incredibly,'' the world No 62 said. "I couldn't read his serve. Even sometimes I guessed right but, with the speed, I couldn't really get the ball back.
"I was pushing to get one break point but he's the No 14 in the world and it's the main weapon for him.''
The fans on centre court have become accustomed to watching Isner playing tie-breaks during the last week, so it was of little surprise that was exactly what was required to decide the first set.
After Lu had one break point in Isner's opening service game, the towering American settled into his work and was rarely troubled. The third seed brought up three break points of his own early in the set but, unable to convert any, he settled for the breaker.
Not that Isner would have particularly minded - in 2013 he played the most (56) and won the most (38) tie-breaks on the ATP Tour. And his record soon showed, getting the mini-break he needed from Lu's first serve and holding on to take the first set.
Lu was immediately in trouble to begin the second with Isner, who held in his first service game, bringing up three break points. But Lu saved them all and went on to win the game with an ace of his own.
The Taiwanese player continued to walk a tightrope in the sixth game of the second, again coming back from 0-40 to keep the match on serve.
That's the way it stayed in the set, setting up another tie-break and giving Isner a golden opportunity to take the title. And the American needed no second invitation, coming back from a mini-break down and taking advantage of a double-fault from Lu to win the match.
"I wish it didn't have to be so close at the end,'' Isner said. "It gives me a lot of grey hairs. But I'm so happy.''
- APNZ