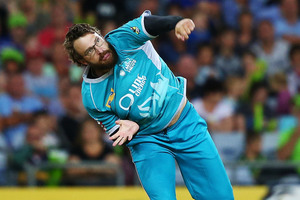 Had things been a little different, Dan Vettori would now be with Northern Districts in their fight to make the domestic T20 final.
Instead his only contract this summer has been with the Brisbane Heat in the Big Bash League.
He's been bowling well too, the only Heater (no idea if that's the nickname but it has a ring to it) to have bowled the maximum 20 overs in their five games thus far, taking five wickets at 24, with an economy rate of 6.15 per over.
What the playing future is for one of New Zealand's finest players is getting greyer by the week.
Not only was he limping during the Heat's game against the hopeless Sydney Thunder on Wednesday night - the whispering Thunder have now lost 18 on the bounce, if they were a horse they'd be in a can by now - but yesterday came confirmation he will be coaching the Royal Challengers Bangalore in the Indian Premier League this year.
A few hours later it emerged that Vettori had spoken to New Zealand coach Mike Hesson yesterday about his position, followed by news that he is out of contention for New Zealand's ODI squad to play India, to be named on Wednesday.
Vettori is due to meet Hesson and captain Brendon McCullum when he returns from the BBL. Last night he said he did not want to comment publicly on his situation until he gets home.
One source close to Vettori, who had a chat with him yesterday, said it would be premature to write an obituary on his international career just yet.
However, he turns 35 on January 27 and the Bangalore job clearly hints that his eyes are now turning to a different branch of the game.
Jimmy Neesham yesterday made a good point about Vettori's appointment.
Stephen Fleming, who preceded Vettori as national captain, is coaching the Chennai Super Kings; John Wright - the New Zealand coach before Hesson - is running the show at champions the Mumbai Indians.
Now, out of eight franchises, three are coached by New Zealanders.
"I'm sure there's a few of the boys looking at that part of the world are happy there's another Kiwi in a power position," Neesham said.
The World Cup, a long cherished ambition next summer, may slowly be slipping off the Vettori radar.