Taiwanese terrier stuns centre court monarch in huge upset for shot at first tournament title against big-hitting American star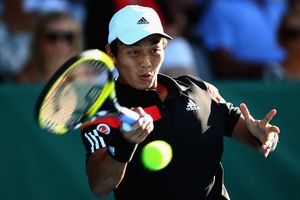 The reign of King David is over.
David Ferrer, world No3 and four-time Heineken Open champion, was deposed by Yen-Hsun Lu, of Taipei, 6-4, 7-6 (4) last night in the tournament's biggest upset for some time.
That result seemed almost unthinkable before their semifinal.
After all, Lu had never even played in an ATP Tour semifinal before, let alone a final, in 13 years as a professional. His best result before this week in Auckland had been 10 quarter-final appearances.
Compare that to Ferrer, the King of Stanley St, who was appearing in his 73rd ATP semifinal and who had won his last eight semifinals. Ferrer had not lost a match in Auckland since 2010, the year American John Isner, Lu's opponent in today's final, won the Heineken Open.
Lu could barely believe it when Ferrer's forehand on match point drifted long. But he deserved to win and there's no reason why he can't beat the big-serving Isner, who overcame Spaniard Roberto Bautista Agut 3-6, 7-6 (2), 6-4 in his semifinal.
Lu has been consistently good all week and the fast surface at Stanley St seems to suit his game. The world No62 moves well, makes few errors and hits a hard, flat ball and he put Ferrer under pressure.
"It was better than good," Lu said. "I played perfect. It was a really amazing day.
"I will always remember this match and the way I played. I played the best tennis I have played over the last few years."
Ferrer, who was aiming to eclipse Roy Emmerson's record for the most wins at the Auckland event, couldn't say the same.
"It is maybe one of the worst defeats of my career," Ferrer said. "Today I made a lot of mistakes, like a junior."
Isner also made a high number of errors but somehow found a way to navigate his way past Bautista Agut.
He looked in deep trouble when trailing 3-5 in the second set. Up to that point, his serve lacked the pace usually seen at this tournament and his movement around the court was poor.
He occasionally favoured his sore ankle and his body language also made him look lethargic but Isner said that wasn't uncommon.
"I always look more tired than I really am," he explained. "I'm not playing possum, either.
Crucially, he broke when Bautista Agut was serving for the match to level at 5-5 and then easily won the tiebreaker 7-2. Suddenly the momentum had shifted and Isner's serve was also cranking into gear. He rifled down his quickest serve of the contest, a 231km/h bullet that equalled his fastest of the tournament, to set up match point and closed out the match in one hour and 50 minutes. final. He will now play the 17th final of his career but just the third outside America. An ice pack was applied to his troublesome ankle but Isner said it shouldn't be too much of a factor in the final. "It responds very well when I ice it and that's what I'm going to do the rest of the day," he said.
"But it comes to a point in the matches, the hour-and-a-half mark, when it starts to get a bit painful.
"I'm not really worrying about it. I'm just very happy I'm in the final and I have a feeling that it's going to feel just fine when I wake up in the morning. I'm just one match from winning this tournament. It would be amazing for me."
Not as amazing as it would be for Lu.