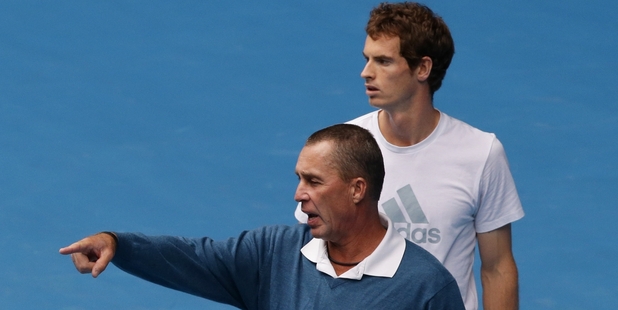 The most absorbing debate around Melbourne Park this week does not concern the revamp of the Australian Open's show courts, nor the 50°C temperatures forecast for the middle of next week.
Rather, it revolves around the clutch of tennis aristocrats who will be attending the tournament - not as commentators or corporate guests, but mingling with the players in the gyms and locker rooms.
In a fascinating and unexpected twist to tennis' plot lines, Boris Becker and Stefan Edberg have both been recruited as coaches by a pair of modern titans, Novak Djokovic and Roger Federer.
Meanwhile, Michael Chang, Goran Ivanisevic and Sergi Bruguera, the former French Open champion, have taken on similar roles with players from the next generation.
What, then, does the man who started the trend think about it all? Two years ago, when Ivan Lendl joined Andy Murray's entourage, many questioned whether a first-time coach could unlock Murray's potential.
Today, that question has been put to rest, and a giant of the 1980s has become as essential an accessory as a swimsuit model on your arm.
"People are always reading too much into these things," was Lendl's characteristic first response, when the issue was put to him yesterday. "There have been famous coaches before. Look at Rochey (Tony Roche, the Australian who worked with Lendl almost 30 years ago).
"There's definitely something the older guys can help with, the experience of having been out there on the court, calming the guys down. But mostly it's down to the guys on the court. In any relationship the chemistry is important. Your best coach at an academy may not be the right person to work with your best kid, but you put them with someone less good and they do a great job. If a guy with 30 majors comes in and the chemistry is not there, it's not going to work."
For all his pride in his eight Grand Slam titles, Lendl acknowledges that there is more to life than medals. As he pointed out, Rafael Nadal has always worked with his uncle Toni, a former club coach from their obscure home town of Manacor, yet he stands at the top of the world rankings.
Now Lendl's value has been proven, a group of them have mirrored Murray's bold decision, just as they emulated his move towards a larger entourage in the late 2000s. Wherever you place Murray in the pantheon of tennis champions, his attention to detail is second to none.
The highest profile of the new alliances must be Djokovic/Becker - who will inevitably be known as Beckovic - and Roger Federer's rather looser arrangement with Stefan Edberg who has committed to only 10 weeks on tour this year. These two go together neatly as Fedberg, which leaves Murray and Lendl with a problem. Lurray sounds like something noxious you find on a farm, and as for Mundl, a kind of Austrian stew?