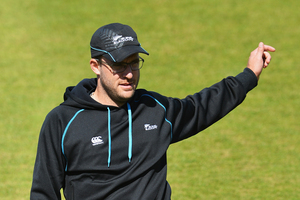 Daniel Vettori will coach the Royal Challengers Bangalore in this year's Indian Premier League.
In doing so he will forego a place in the IPL player auction on February 12 where several New Zealand players are seeking contracts through the eight franchises.
Vettori joins former New Zealand captains Stephen Fleming (Chennai Super Kings) and John Wright (Mumbai Indians) as IPL franchise coaches.
The all-rounder replaces South African Ray Jennings after RCB missed the IPL semifinals and subsequent qualification for the Champions League over the past two seasons.
It is Vettori's first foray into coaching outside what was termed an 'assistant coach' stint with the Brisbane Heat last season in the Big Bash League when he was injured. Vettori is looking to play internationally until at least the
2015 World Cup but the decision signals his first steps - outside shareholdings in several businesses - beyond playing cricket since he made his test debut almost 17 years ago.
The former New Zealand skipper turns 35 this month and continues to battle for fitness. His Achilles tendon problem is understood to have improved following surgery in June but he recently tweaked his back during a lifting exercise.
The RCB franchise is owned by Indian industrialist Vijay Mallya who also has the Force India formula one team as part of his portfolio. He moonlights as an MP and chairman of the United Breweries group who produce
Kingfisher beer.
This year signals a fresh IPL auction - the previous one in 2011 saw a number of players contracted three years.
Each franchise gets first option to retain five players from the previous season. RCB have signalled they want first dibs on Chris Gayle and AB de Villiers before they look further afield. It's uncertain whether fellow internationals Tillakaratne Dilshan and Muttiah Muralitharan will be retained.
Allan Donald has been recruited as bowling coach and Trent Woodhill as fielding coach. That reunites the combination that went with New Zealand head coach Wright to the 2011 World Cup when Vettori was captain and the team made the semi-finals.