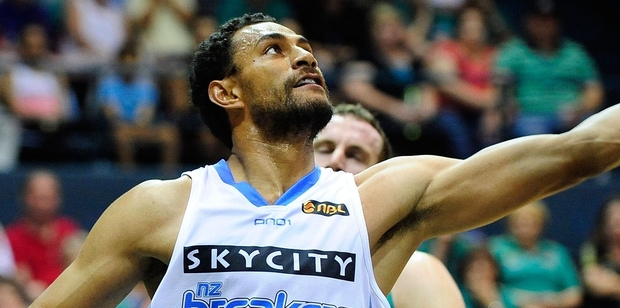 He leads the league in fouling while being the Breakers' most important player - two attributes which do not mix smoothly for Mika Vukona.
If there were any remaining doubts about Vukona's value to the defending champions, they were put to rest during last week's awful loss against Adelaide.
Vukona knows he has to stop putting his team in positions like they faced against the 36ers, when his foul trouble left them severely undersized and soundly beaten.
Because if he fails to reduce his infringing soon - tonight in Melbourne would be a good place to start - the Breakers will see the hurdle they already face grow insurmountable.
"I've put this team under a lot of pressure by getting myself in foul trouble the last couple of games and it's hurt us," Vukona said. "I'm trying to adjust to that - as I have all season. But I get another chance to try to find a better method against Melbourne, so it's going to be a big test."
In previous years, Vukona combined with Dillon Boucher to ensure the Breakers passed any examination posed by the opposition, forming a hard-nosed one-two punch to muscle their way to wins when needed.
But with Boucher gone and with new rules vexing Vukona all season long, the power forward has found his power limited. It hasn't impinged on his overall impact - he has been the Breakers' clear MVP but it has left him playing fewer minutes than the team needs.
"We need him on the floor," said coach Dean Vickerman. "He's so vital - you see how when he's not on the floor that we just lack some of that mongrel a little bit and that desperation to go and get rebounds.
"It is a difficult balance but we can't have him not be Mika. He has to go and play the way he plays.
"If we can just take his hands out a little bit more he can hopefully avoid some of the fouls."
The maximum five arrived in just 16 minutes against Adelaide which, with Alex Pledger sitting out through injury, left an overmatched Breakers to cop a 26-point hiding in perhaps their worst loss of the season.
The champs still sit just a win behind Cairns in fourth, leaving the final playoff place within touching distance despite their disastrous opening to the campaign. But they'll need Vukona to rein in his 4.2 fouls per game if they are to salvage their season, hopefully with the help of new addition Casey Frank.
The commentator-turned-contributor may be with the Breakers for as few as two games but he hinted at his approach on arrival.
"I'm very physical," he said. "I've got five fouls to use and I plan to use them."
With the meeting against the third-placed Melbourne followed by a trip to top-of-the-table Perth, Vukona will appreciate any assistance.
"There's a reason why they call him 'college guy'," Vukona said. "He's got that intensity, he gets in your face, like American college guys do, and that's what we need at this point in time.
"You've got to do things to change it up. Casey was the only one available and he was the one we really wanted as well.
"Desperate times call for desperate measures."
- APNZ