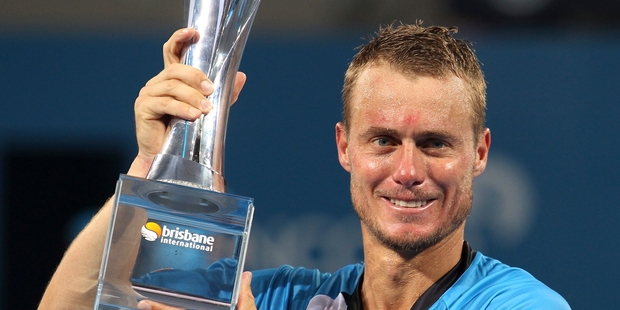 Lleyton Hewitt has pulled out of the Kooyong Classic in Melbourne, saying the toll on his ageing body could have spoiled his Australian Open bid.
The 32-year-old reclaimed his place as Australia's top-ranked male player by upsetting Roger Federer on Sunday to win a drought-breaking Brisbane International title.
But he is still feeling the effect of a succession of tough matches in Brisbane's heat and humidity.
"At the moment it's just all about recovery for me," said Hewitt.
"When you get older it gets a bit tougher than when you were 16.
"Saturday and Sunday, [there were] brutal conditions up in Brisbane, very little breeze whatsoever, very hot and humid in Pat Rafter Arena.
"We're going into the first major and you've got to do what's absolutely right for you."
Hewitt has been regularly hampered by injury in recent years but said he had not had a fresh injury and was confident he would be in peak condition for the Open, which starts next week at Melbourne Park.
Hewitt, who at No43 is back in the top 50 for the first time since 2010, said overtaking Bernard Tomic (No52) as the top-ranked Australian meant nothing to him.
But the chance to again vie for his home Grand Slam title still means plenty.
"It's been a dream since I was 8, 9 years old," Hewitt said.
"For me to still be out there competing, this is my 18th Australian Open in a row, so I'm thrilled just to be out there."
Unseeded, he was unwilling to say whether he could win the event.
His only warm-up match this week will be an exhibition clash with Andy Murray at Kooyong on Friday night.
While Hewitt's withdrawal is a huge blow for the Kooyong exhibition event, the field is still strong, with the other seven players all ranked inside the world top 30, led by Czech No7 Tomas Berdych.
Australian 19-year-old Jordan Thompson, the world No321, replaces Hewitt to make up the eight-man field.
- AAP