After a break of just over a year to battle Hodgkin's lymphona Ross Hutchins is back on court today with his old doubles partner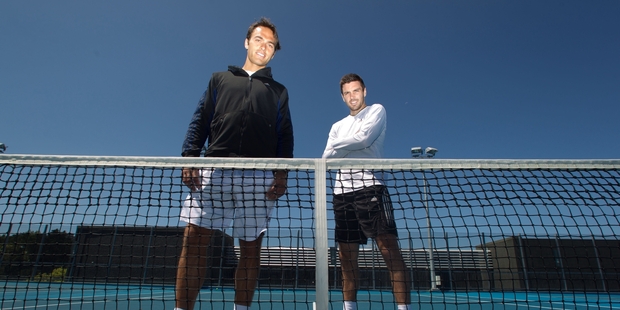 Ross Hutchins talks about it like it was an inconvenience rather than something that could have killed him.
A little over 12 months ago the 28-year-old Briton was diagnosed with Hodgkin's lymphoma, a form of cancer, and undertook his first chemotherapy session at about the same time as regular doubles partner Colin Fleming was winning the doubles title at the 2013 Heineken Open.
There was no doubt in his mind he would beat the disease, which is why he describes 2013 as a "year of different experiences, of trying to have different goals in life". What had started as back pain about 18 months earlier turned out to be something more sinister but he wasn't about to let it dictate terms.
He raised $340,000 for Rally Against Cancer, with the money going to the London hospital where he was treated. The aim had been $100,000 but best friend and world No 4 Andy Murray nearly matched that when he donated his $73,000 prize money from the Aegon Championships to the charity.
Hutchins had other "projects" last year with a fashion label, media work and coaching and scouting for British tennis. Oh, and battling cancer.
"There were a lot of things that I did that I really put my heart and soul into, as well as trying to get healthy," he said. "It was just a lot of different things I had never experienced before and something I looked forward to achieving.
"I didn't allow myself to think [about my own mortality]. I'm not stupid and know the reality of what cancer can do to you but I surrounded myself with people who would be positive and knew my ambitions to get healthy."
He was given the all-clear in July and set about getting himself in shape to return to the tour this year. As it turned out, his first match back was on January 1, meaning he was able to draw a line under 2013.
Hutchins and Fleming won the first set of last week's match at the Brisbane International against Jeremy Chardy and Grigor Dimitrov 6-0 but were eventually beaten in a third-set tiebreaker. At times it felt like they had never been away.
"It was very enjoyable," Hutchins said. "I loved it - the warmups, getting ready and the feeling of being back together. The level of tennis we played was high. We won the first set 6-0 and it was great fun. I didn't get too high with emotion and too down when we lost. It was the first week of the year. I loved every second of it and can't wait to go out there again." They received a wildcard entry to this week's Heineken Open and today will take on German duo Andre Begemann and Martin Emmrich.
Fleming had one of his best seasons last year, winning two tournaments and playing in three other finals, including the Masters 1000 event in Canada with Andy Murray, and rose to No 17 in the doubles rankings.
There was no question, however, of not reuniting with Hutchins. When the pair teamed up at the end of 2010, they made a pledge to play the rest of their careers together if they could. Like Hutchins, Fleming looks back on 2013 as an unplanned break from playing with his regular partner.
"A lot of things happen in life that put things in perspective," he says. "In the big picture, it makes it easier to handle ups and downs but we are still driven to succeed."
- APNZ