35-year-old German says experience key to holding his own against rising talent.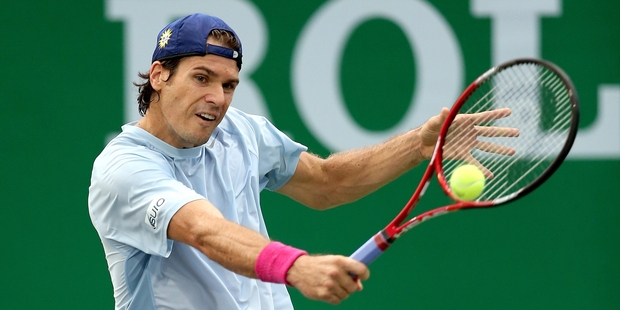 Professional sport is becoming an increasingly younger athlete's business but it doesn't seem to be the case in tennis.
The average age of the top 20 players in men's tennis is 28. There are five in their 30s and only two under 25 (Milos Raonic is 23 and Kei Nishikori 24) and on Sunday two thirty-somethings, Lleyton Hewitt (32) and Roger Federer (32), slugged it out in the final of the Brisbane international.
At 35, Tommy Haas is the oldest player inside the world's top 20. The world No 12 has been on the tour since 1996 and last year had one of his best seasons in collecting two titles and reaching the quarter-finals or better in 11 tournaments, including the French Open.
He was beaten at the quarter-final stage of last year's Heineken Open, when he went down to Gael Monfils in three sets in one of the best matches in the tournament's history, and this year lines up as second seed behind world No3 and three-time defending champion David Ferrer, himself 31.
Haas has no plans to retire but admits staying near the top can sometimes be a struggle, especially now he has children. But it can also be an advantage being more mature and the German takes considerable pride out of the fact he is the oldest player in the top 20.
He has played 851 singles matches on the ATP tour, won 15 titles and banked US$12.7 million ($15.3 million) in career prizemoney and in 2002 was ranked No 2 in the world.
There have also been some big slumps and in 2011 he was a lowly 896 after a couple of seasons wrecked by injury. His resurgence in 2012 saw him named ATP Comeback Player of the Year for a second time.
"Maturity helps with everything in life," he said. "When you've been on the road for quite a bit, you know what works for you and what doesn't. You know how you feel and what you've done in the past to prepare yourself.
"Sometimes it's mind-boggling if you think about the fact that you're playing against a 19 or 20-year-old and I'm 15 years older than this kid. That's crazy. But it is what it is. You try to use your experience. Sometimes it works and sometimes it doesn't. You can have as much experience and knowledge about the game as you want, but sometimes you can't execute the shots."
Haas will take on a considerably younger player in his second-round match at the Heineken Open tomorrow - as one of the top-four seeds he received a first-round bye - when he will take on either 21-year-old wildcard Jack Sock or 25-year-old Frenchman Adrian Mannarino.
Haas will need to call on his experience because his off-season consisted of "eating a lot", "trying to spend time with family" and a "boys' trip" away.
He also spent the last week training in Hawaii, trying to get used to the design of his new racquets.
This year marks his fourth visit to the Heineken Open and he will hope to go one better than in 1999 when he was a beaten finalist. Haas will be the first to admit that seems like a long time ago now.
- APNZ