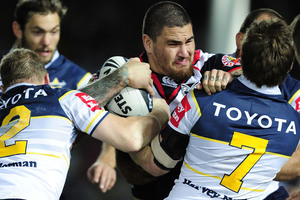 NRL player Russell Packer has had his bid for bail knocked back before an appeal against the severity of his two-year sentence for a drunken assault.
Australian magistrate Greg Grogan today sentenced the 24-year-old, who left the Warriors at the end of last season and signed on with the Newcastle Knights, to two years behind bars for an assault outside a Sydney hotel last November.
The sentence caught Packer and his supporters, including Newcastle Knights officials, off guard at Downing Centre Local Court.
Packer's lawyer Murugan Thangaraj, SC, immediately lodged an appeal after the sentence was handed down and later applied for Packer's bail.
The police prosecutor did not oppose bail under certain conditions including that Packer report to police three times a week and abstain from alcohol.
Mr Thangaraj argued there was no evidence Packer would assault again and it was important for him to continue his rehabilitation.
But Magistrate Greg Grogan said he was concerned about community safety if Packer was released on bail.
He said Packer appeared to be a ticking time bomb on the night of the assault and he denied him bail.
Packer kissed his emotional partner as he was placed in handcuffs and led out of the court.
The appeal against the severity of the sentence has been lodged for February 11.
The court was told that Packer had been kicked out of the Chambers Hotel at 1.30am on November 23 last year because he was too drunk.
He moved about 20 metres from the Martin Place pub, then got into a disagreement with another man after being accused of stealing two cigarettes from a woman sitting nearby.
Mr Grogan told the court that Packer punched the man in the face, causing him to fall and hit his head on the ground.
Packer punched the man several times as he lay on the ground and then stamped on his head, the court was told, leaving the victim with two fractured facial bones.
Packer pleaded guilty on Monday to assault occasioning actually bodily harm and failing to leave a venue.
Mr Grogan labelled Packer's behaviour "cowardly and deplorable'' and said the result could have been much worse.
"The person fell to the ground and luckily it would appear did not suffer those injuries seen in media reports as of late,'' Mr Grogan said.
"There was potential for that, Mr Packer.
"You added fuel to the fire by attacking a man lying motionless on the ground, punching him and then standing up and stomping on his head.''
Mr Grogan said the public was sick and tired of the behaviour Packer showed that night.
In passing sentence, Mr Grogan said that with a 25 per cent discount for entering a guilty plea early, Packer was jailed for a fixed two-year term.
- AAP