John Wright's theory meshes with Kenny Roger's philosophy.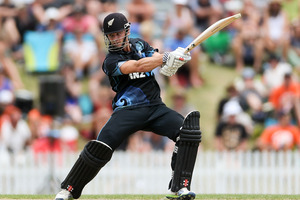 When John Wright coached the New Zealand cricket team he owned a dog-eared 1B5 exercise book heavily inked in facts and figures monitoring progress. Something similar probably exists on a series of Excel spreadsheets these days. One of Wright's statistical morsels jogged the memory watching New Zealand ease to victory over the West Indies, albeit via Duckworth-Lewis, at Nelson on Saturday.
"Our aim is to be no more than three wickets down after 35 overs," Wright had said as he leafed through the 1B5 pages during an interview in Ahmedabad at the 2011 World Cup.
Wright's theory holds merit as a strategy for 50-over cricket, even in an age of Twenty20 blitzkrieg. As happened in Nelson, Jesse Ryder, Kane Williamson, Ross Taylor and Brendon McCullum play shots around an anchor like Martin Guptill to build their total. Guptill wasn't necessarily designated for the role on Saturday as he scratched for form - he had two runs off 29 balls initially - but it demonstrated the concept can work.
New Zealand have completed 19 ODI matches since the start of 2013. In five of those they didn't complete 50 overs batting due to rain.
In the other 14 they reached the 35-over mark with three wickets down six times, winning four, losing one narrowly in Bangladesh and having the rest of the order implode in the final 15 overs to give them too few runs batting first in Napier against England.
Four wins out of six ain't bad. Compare that with the eight matches in which they lost more than three wickets in 35 overs; they won three and lost five. As Kenny Rogers once sang: "Every gambler knows that the secret to surviving is knowing what to throw away and knowing what to keep."
A gambling cricket captain like Brendon McCullum, to paraphrase Kenny again, might have found an ace that he can keep.
McCullum appreciates the theory but says it can't become all-consuming. Speaking after New Zealand had taken a 2-1 lead in the five-match series with a game to play in Hamilton on Wednesday, he said: "It's great to be one or two down by 35 overs but you can't waste those overs solely to get into a launch position. You need momentum to build a platform."
Still, those Nelson circumstances provided surety despite Guptill receiving taunts via the crowd and Twitter about inducing boredom.
"I think people expect too much sometimes," Guptill said. "They don't know what the conditions are like in the middle. To get through the initial period, adjust and end up with 81, well, I'm happy."
The cricketing fanbase must appreciate that innings like Corey Anderson's world record 36-ball century and Jesse Ryder's 46-ball ton in Queenstown are rarities.
They were created under special circumstances with the match shortened to 21 overs by rain. In a bizarre way they're almost counter-productive because they create false expectations. The team is not suddenly malfunctioning because sixes aren't hit every 5.73 balls. The upshot is knowing such an arsenal exists when required.