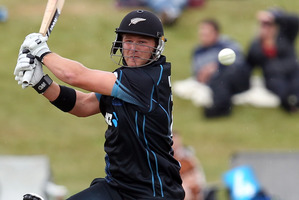 Corey Anderson blew the Windies and a world record away and will be chin strap deep in riches thanks to the T20 revolution. Lotto nation looks on, breathless, or so the story goes.
Anderson was powerball, as he struck a century and the jackpot. It's all very exciting on one hand and kind of depressing on the other. Every beautifully timed crack of Anderson's bat at ski-resort Queenstown had him climbing a bigger mountain of cash. The one-day game was rain affected, but not nearly so much as cricket is by rampant dollar signs. Chirpy, chirpy tweeters had converted 36 balls into bales of banknotes before the cricketers had even left the ground.
One extraordinary onslaught against a weak touring side in a reduced overs situation, and Anderson is a wealthy star in less time than it took Richard Hadlee to out-manoeuvre a top opponent. They won't ever name a grandstand after Anderson, but he could probably buy the rights now if he wanted to.
To a diehard cricket traditionalist, all this fuss is just that. Good luck to Anderson, and he may prove to be a wonderful entertainer. But a game once deep in subtleties is obsessed with a shallow future. Few Kiwis will even watch Anderson heaving away in the IPL's T20 mire.
T20 is a short game of even shorter value. Some of us struggle to last through the T, let alone make the 20. Anderson's one-dayer barrage got the nation's pulse racing, but this sort of batting is merely par for the course in T20. In a desperate cash grab, cricket is banking on a highlights reel.
Modern bats are built to batter not last and T20 has picked up these cudgels and smashed the hell out of a game once built beautifully on nuances over time. Australia even named its competition the Big Bash. Swinging the willow at anything has become a career move.
Brett Lee's bodyline barrage against Piers Morgan was more interesting than T20 ... and mercifully quicker. Give us the guile of test match cricket any day. The best cricket has been, and will remain, the Ashes series despite England's pathetic surrender and the triumphal Aussie wisdom dominating the TV commentary box. (The bay of Richie Benaud impersonators at the Sydney Cricket Ground was very funny, but I'd swap them for the return of the real thing in his pomp any time.)
Witnessing Mitchell Johnson steaming ahead again over the weekend, thunderbolts at the ready, brought back memories of the amazing days when Lillee and Thommo plus too many West Indians to mention ruled the cricket world. Johnson has genuine gunslinger danger, even if his moustache looks like a party shop piece.
New Zealand's test series victory over the West Indies was just as good, where Anderson's contribution was significant. If his bowling holds up and the batting catches up, New Zealand has a brilliant new all-rounder although he'll face much tougher tests than a Gayle-less Windies blowing cold.
T20 - the symbol strikes a fear to match what Johnson creates. We're told cricket had to go this way, but did it have to go this far?
In America, baseball is still played as pure as the days when Babe Ruth reigned. There is a home run derby but it lasts only a day, whereas cricket's love of the slugfest is in danger of hooking the baby out with the bathwater.
Quite frankly, Corey Anderson's Indian earnings are as interesting as the traffic count on a desert highway. But it does matter that Anderson's instant IPL ticket doesn't wreck his test technique and value, and that the quick-hit doesn't knock the real game out. Encouragingly, the ICC is supposedly fighting a rearguard action on test cricket's behalf.
Even we T20 cynics know that cricket must generate revenue and keep up with fast-paced, instant-reward times. We'll buy this sausage meat, if we must. But that doesn't mean we like it.
•Calling all backpackers ... Albert Riera is the sports story of the moment. The midfielder from Spain is the star turn in a rejuvenated Phoenix, whose possession-based soccer under new coach Ernie Merrick is finally turning into A-league points. The Phoenix are without Paul Ifill and the other key playmaker Carlos Hernandez is fending off injury. But Riera has stepped up. A semi-professional player in his homeland, Riera was travelling with friends having decided to take a break as a paramedic. He ended up with Auckland City, and was signed by Merrick after a pre-season match at Kiwitea St where Auckland beat the A-league club. It's a fillip for those who believe or hope that the national league is a legitimate stepping stone. Merrick deserves big raps for spotting a gem from the domestic scene.
•A ticketholder for the Auckland Nines next month has submitted the following grumble ... he's far from happy on learning that Aussie great Brad Fittler - the 41-year-old who retired nearly a decade ago - will play for the Roosters. This, he believes, affects the tournament's legitimacy and he'd rather watch a rising star with considerably more petrol in the tank. My view: I can see his point, but it will still be interesting to find out if Fittler can unveil the old magic. With a bit more space on the field, his famous cut-out passes might be winners. And when you get to a certain age, it's inspiring when anyone makes a comeback.