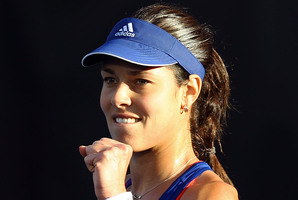 ASB Classic champion Ana Ivanovic met an All Black legend after her win yesterday - and recalled the time at the 2008 Olympics, when at the behest of Novak Djokovic, the entire New Zealand Olympic team performed the haka for Ivanovic and the Serbian squad.
Before the opening ceremony in Beijing, the athletes assembled in two indoor stadiums as they waited to head into the Bird's Nest. The Serbian team sat directly in front of the New Zealand squad, and their all black uniform provoked some curiosity.
"The New Zealand team were sitting right behind us," Ivanovic told the Herald on Sunday.
"Novak [Djokovic] eventually went over and asked the whole team to do the haka for us. They did - and it was absolutely amazing. They were right in front of us; I had seen it before on television but to see it live was amazing."
After her win yesterday, she was presented with a signed All Black Sevens jersey by Dan Carter, who had enjoyed the match from a corporate box. Ivanovic asked if Carter had enjoyed the marathon match, then laughed that "at least we made it last".
Carter told the new champion he "was cheering for Venus [Williams] to get to the third set [and] after that I started cheering for you".
Ivanovic was happy to receive the jersey, and quipped "It is adidas too, so I can wear it!"
Aside from her strong form, the Serbian has made the most of her Auckland visit, taking a helicopter ride over the Hauraki Gulf and visiting Piha and the Waitakeres. She plans to see some "more beautiful beaches" today, before a late flight out tonight to Australia.
Final opponent Williams has been less a tennis tourist over the past week but did, after a bit of searching, track down a karaoke bar to relax one night. It is a hobby of Williams, one she shares with her famous sibling.
"I used to have a go-to song - Call Me, by Blondie," Williams said. " Now I always try to sing new songs. I sing a lot of 80s, a lot of classic rock. Serena sings today's pop hits - and also The Little Mermaid - so that is how we differ."
Over the past week in Auckland, Williams has kept a close eye on the form of the Miami Dolphins, the NFL team of which she is a part owner, along with Serena.
"I really enjoy the games - maybe too much," laughed Williams. "But we had an extremely tough loss this week so we just missed out on the play-offs. We will get there though."