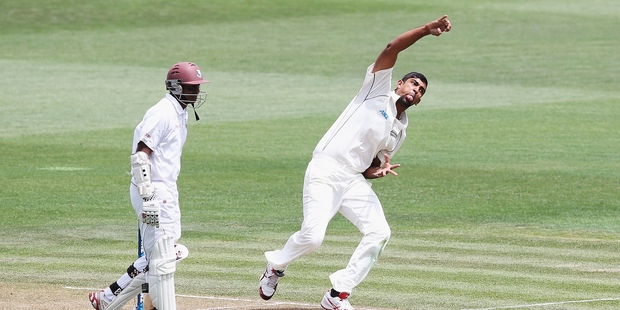 Ish Sodhi has returned from his tutorial with legspinning great Shane Warne, realising raw talent alone won't guarantee test greatness.
The 21-year-old lined up with two Australian development spinners in the Melbourne Cricket Ground nets to bowl in front of Warne after Australia had won the Boxing Day Ashes test on the fourth afternoon.
The session was set up by Northern Districts chief executive Peter Roach, Warne's former Victorian teammate. Sodhi was accompanied by former test spinner Paul Wiseman who worked closely with the country's top spin bowlers during Mike Hesson's coaching tenure.
He also mentored Sodhi as part of the national under-19 team.
Sodhi's promising start to his five-test career means he has not played in a losing team; a rarity for a New Zealander.
His 11 wickets have come at 51.45 but indications show he is talented, particularly with the googly and top spinner. However, almost two hours with Warne showed him he has much to learn. "His positive thinking was incredible. Talking to him about tactics, he came up with so many little things beyond what I'd ever thought about.
"One of the biggest things was how honest he was. It radiated off him. He was passionate about what he did. Passing on information so willingly showed the character of the man. He was all about working batsmen out mentally and stressed it was about more than just how you bowled the ball. He suggested taking into account conditions, the strengths and weaknesses of your own fielders and creating a facade to keep batsmen out of rhythm. It was, without doubt, the best legspin session of my life." Midway through Warne's third test in Sri Lanka, he had taken one wicket and his bowling average was 335. Then, with Sri Lanka needing 31 runs to win chasing 181, Warne took three wickets in 13 balls without conceding a run to mop up the match.
His career rarely dipped again. It is something from which Sodhi has drawn strength.
"I loved the way he carried himself," Sodhi said of Warne, who had just completed his stint in the Channel Nine commentary box.
"He had a confidence in his own ability. As a spinner, you can't bowl a bouncer so you need other ways to intimidate. He was the absolute master, using his entire body rather than his hand to put 'work' on the ball.
"We also spoke about subtle variations like using the angle of the crease. He agreed it can be a good idea to land the ball on the same spot most of the time but said it's not the spot you bowl on - but how the ball gets there through a different trajectory - which is important.
"We bowled to a young up-and-coming Australian batsman and after 10 minutes he [Warne] pulled us aside and said 'how are you going to try to get him out?' He then described the batsman's strengths and weaknesses. That awareness is the reason he is world-class."
Sodhi says he's also benefitted from working with Brendon McCullum as skipper.
"Baz has an attacking mindset which I love."
McCullum has already hinted he's keen to keep faith with Sodhi for the Indian test series, regardless of Daniel Vettori's fitness.
Speaking after the West Indies triumph, McCullum said: "I'm rapt with Ish. I know he hasn't bowled a great deal but this [series] has been great for his development. The luxury of our pace attack allows us to have the type of [attacking] bowler he is. I've got a tremendous amount of confidence in his ability."
The only problem might lie with the Indian batsmen's sound techniques against spin. Sodhi's skills will come under scrutiny but that's where the Warne session and the creation of a facade could pay dividends.