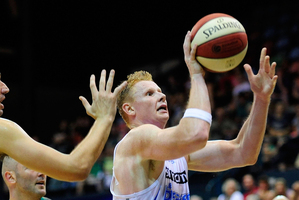 Gary Wilkinson knew it was coming. So did Dean Vickerman. The American's 31-point haul against Sydney surprised few within the club.
Now the challenge is sustaining that level as the Breakers try to claw their way back into the competition.
That continues tonight in Adelaide, where Wilkinson will again take centre stage in the absence of Alex Pledger.
The Breakers suffered little in their first outing without their starting big man. In fact, it could be argued the team's complexion was enhanced when Wilkinson assumed the place in the starting five he owned during his first two seasons at the club.
He spaced the floor, allowing point guard Kerron Johnson to have one of his best games as a Breaker. He finished inside and out, grabbing a career-best points tally.
And, crucially, he led the Breakers to their fifth win of the season, one which lifted the defending champions from the bottom of the ladder at the halfway mark of the campaign.
The Breakers (5-9) may now need to win twice as many as they lose to keep alive their title defence. Fortunately, they have the Wilkinson of old in their corner, someone who had no reservations he would again exhibit the form that made him a fan favourite in his first stint on the North Shore.
"No doubt - I'm very confident in myself in terms of my ability," he said. "It's difficult taking two months off and focusing on a totally different aspect of life, then trying to get your focus back into basketball and what it takes to be the kind of athlete that I expect of myself.
"But I'm very confident in myself no matter what I do. I knew that I could get back and I know I can maintain it."
His coach was equally certain of that. Vickerman even foresaw Wilkinson pouring in the points against Sydney, courtesy of a sneak preview during the league's festive hiatus.
"Over the Christmas break, he probably had 35 to 40 points in our interclub scrimmage," Vickerman said. "Once Alex went down, you could see his level of intensity raise and his want for the basketball raise.
"So we did see that one coming, but it was an outstanding effort."
Wilkinson's breakout performance raises questions about the shape of the starting five when Pledger returns to full fitness. If Wilkinson can continue his offensive output - in a season where the Breakers have struggled to contain the opposition defensively - surely Vickerman would want the import playing as many minutes as possible.
The coach wouldn't be drawn on that, though he did confirm Pledger was out of the next two games.
"Obviously Alex is going to take a little bit of time to get back to game fitness after he sits out for just over a month," he said. "Hopefully Wilkinson just keeps playing the way he's played."
Wilkinson, for one, is certain that will happen, now he's rediscovered his rhythm. And, this being the Breakers, he wasn't about to ignite a controversy about playing time, saying he and Pledger make a good tandem when they're healthy.
"It doesn't matter if I'm starting or coming off the bench. I feel in good form right now. Whatever it takes to win games and get to the playoffs."
- APNZ