Young Grand Slam champ to play at Heineken Open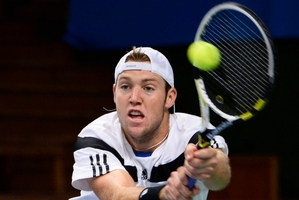 Jack Sock is the American Grand Slam champion you have probably never heard of.
The 21-year-old, who is a wild card for next week's Heineken Open, took out the US Open mixed doubles title in 2011 with compatriot Melanie Oudin.
The mixed game is hardly the top of the tree, but it was still an invaluable experience for the then teenage Sock.
"It was a surreal moment in my career," says Sock. "I was 18 when it happened. It was unexpected but an unreal feeling playing on [Arthur] Ashe [centre court] at night at the end of the tournament. It was definitely pretty cool and there is always stuff to gain when you are playing at the end of the slam."
The Big Apple has so far proved the happiest hunting ground for Sock. Apart from lifting the trophy with Oudin, he has reached the third round in each of the last two years at Flushing Meadows.
In 2012, then ranked 243, he stunned world No 23 Florian Mayer in the first round, then beat another top 100 player in the second. Last year he again progressed to the middle weekend before being ousted by highly rated Serb Janko Tipsarevic.
"In New York I always play my best for some reason," says Sock. "Hopefully there can be a lot more of those memories. It certainly gives you confidence going into other tournaments when you do well in a slam."
It's that kind of form that earned Sock, who also beat Milos Raonic and Bernard Tomic last year, a wild card for next week. The 1.85m Sock has a powerful serve, and though most comfortable from the baseline, is also handy at the net. The Nebraska native turned professional in 2011 and reached a career high of 74 last July after being as low as 345 just 12 months earlier.
Like many young players, he gives the impression of a man in a hurry but knows he may have to bide his time as the landscape of the sport has changed.
The average age of top 100 players has increased over the past few years, and young players hitting the top, commonplace in previous decades with Roger Federer, Andy Roddick and Lleyton Hewitt, has become a rare sight. There are no teenagers in the top 100 and only two across the top 200 on the ATP tour.
"I want to get up there as soon as possible but there is definitely a trend that the older guys are doing well," says Sock. "I think the younger generation around my age, there are a lot of us making strides and getting better but it's tough."
Sock, ranked 102, also carries the burden of being one of the next great American hopes, in a country pining for the glory days of Pete Sampras, Andre Agassi and Roddick.
"It's a hot topic and a lot of people like to talk about it but it is what it is," says Sock. "[As young Americans we] are pushing each other to hopefully bring American tennis back to what it was and what people remember. Everyone is looking for that next one and I'm hoping it will be me."
Heineken Open qualifying starts today with the tournament proper to start on Monday.