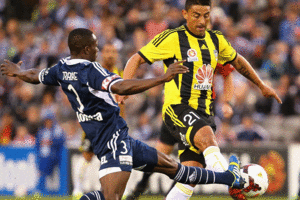 A smile was back on the face of Carlos Hernandez today when the Wellington Phoenix midfielder learned he would be back in action earlier than anticipated.
The Costa Rican international returned early from the Phoenix's successful two-game road trip when an x-ray revealed a fracture in his left wrist following a fall in the 1-0 win over Melbourne Heart last week and was told to expect five to six weeks on the sideline.
But a visit to the surgeon in Wellington, along with a CT scan, showed it to be an old injury, perhaps up to five years old, and that an operation would not be necessary at this stage.
Hernandez should be available for selection against Central Coast on January 12, which is a boost after Wellington's exciting 3-1 win over Western Sydney that kept the Phoenix in touch with the playoff places.
"The CT scan is more accurate than the x-ray he had in Sydney and it is really good news,'' coach Ernie Merrick said.
"The surgeon has told us that it is an old injury and that the wrist is stable. Carlos will need to wear a soft brace to support his wrist during games but that isn't a problem.''
Hernandez said the news was a relief and he couldn't wait to get back to training.
"I was very happy when they told me I could carry on playing,'' he said. "While everyone at the club has been positive throughout there is a lot more confidence after three wins, and with two home games to come I wanted to be a part of it.''
The news also keeps Hernandez's World Cup hopes alive. An extended spell on the sidelines would have put his chances of playing in this year's finals in Brazil in jeopardy
It wasn't such good news for fullback Louis Fenton, who requires surgery for his shoulder injury and will be missing for the rest of the season.
Fenton first dislocated his right shoulder during a pre-season game against New Zealand A in Rotorua and missed the start of the season.
The young fullback fell heavily on it during the 3-1 win over Western Sydney on New Years Day and it popped out again.
"Louis requires surgery and will see the surgeon early next week,'' Merrick said. "His shoulder is too unstable to continue playing so we will get the operation done as soon as possible.''
Fenton said the news he will miss the rest of the season was the hardest thing he has had to take.
"People keep telling me that it is part of football, but it isn't a part I wanted to experience,'' Fenton said. "After the injury in Rotorua I worked hard and did all the right things so this was hard to take.
"I just thought I was getting the hang of playing right back and Ernie had shown a lot of faith in me. The good part is I still have another year on my contract and will be making sure I do everything right to be back next season.''
- APNZ