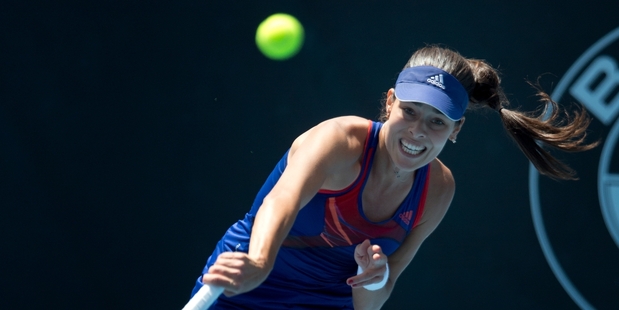 A lot of tennis players have superstitions and Ana Ivanovic has one of which she's not particularly proud.
Between each point, she avoids the lines on a tennis court like they're going to give her an electric shock. At times, she stutter-steps or looks like she's about to lose balance. Another form of white line fever, you could say.
"I've had it for a long time and it's not something I'm proud of," she says. "I don't like these types of superstitions because you get too much into it. But I find it helps me concentrate, so I like to think of it as a ritual and gets me back into the moment."
Win a training session with a Heineken Open star - competition closes today
Ivanovic admits she's emotional. It's mirrored by her new coach, Namanja Kontic, who can be seen pumping his fists or whacking his hat against his knee during her matches.
It's a relationship that started after last year's Wimbledon and it's the first time since her junior years Ivanovic has had a Serbian coach.
The 26-year-old describes herself as "strong-willed, sensitive, determined and extremely competitive" which are common traits among Balkans.
"We have our arguments and he's a strong character, so we do get stubborn, but it's something that also motivates you," Ivanovic says.
"It's a nice change for me to have a Serbian team. I feel they understand me better. They understand the mentality and I feel I can talk to them more openly because they sympathise.
"With emotions, you can make it work for you or against you. I try to manage it better because I do get emotional sometimes. Yesterday, I played a perfect match and I was perfectly calm, today there were some emotions. Then again, it's something that drives me. Sometimes it's hard to stop myself, I have to let it come naturally."
Winning came naturally in the early stages of her career, when she rose to world No1 in 2008 as a 20-year-old after winning the French Open. It seemed like she was set for a long career at the top but only two years later she had slumped to No65 as she over-analysed her game, lost confidence and succumbed to the pressure of being one of the most talked about individuals in women's sport.
Ivanovic is slowly making her way towards the top again. She has been ranked in the top 20 for the past two years and last year reached her first WTA final in two years and the fourth round of three of the four Grand Slams. Naturally, she has designs on climbing into the top 10 soon.
Ivanovic still has a few tools to work with. She has a powerful forehand, and rattled off a number of forehand winners in her 6-2, 6-3 quarter-final win over Kurumi Nara yesterday, as well as a strong serve.
When she's on, like in her commanding 6-1, 6-1 victory over Johanna Larsson in the second round, she can be difficult to stop, but she can also be erratic.
"I think I have the game, it's just putting it together more often," she says. "I feel like I've played matches where I can easily beat the top five girls, then other times I could easily lose to someone ranked 100. It's about being more consistent and getting that game over and over again, day after day."
She already has it sorted when it comes to avoiding white lines.
ASB Classic - Day 5
Centre court - 3pm
3-Lucie Hradecka (CZE)/Michaella Krajicek (NED) v Karolina Pliskova (CZE)/Kristyna Pliskova (CZE)
Not before 6pm
3-Kirsten Flipkens (BEL) v 2-Ana Ivanovic (SRB)
5-Jamie Hampton (USA) v Venus Williams (USA)
- APNZ