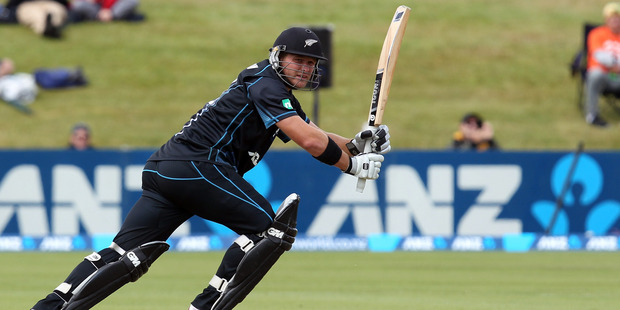 As Dipak Patel watched Corey Anderson crush 70 from 67 balls against India in the semifinals of the under-19 World Cup in Malaysia in 2008 he knew the well-built left-hander was a player of real class.
The Canterbury kid, who resembled some form of manchild, nearly propelled New Zealand into the final of cricket's premier youth tournament but ultimately their 205-8 wasn't enough as the Virat Kohli-inspired Indians chased it down in a rain-affected contest.
That day in Kuala Lumpur no other New Zealander passed 37 and none scored their runs at close to the clip Anderson did against an Indian attack, which featured seven players who all went on to play first-class cricket.
Photos: Record breaking ODI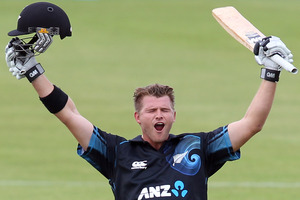 If you didn't know about him already, Corey James Anderson is set to become a household name in New Zealand and after the all-rounder smashed the world's fastest hundred in one-day cricket against the West Indies in Queenstown on Wednesday, he showed signs of the potential he oozed as a teenager.

Contracted to Canterbury at 16 after he had made his first-class debut for his home province on March 12, 2007, injuries flowed and his career looked at a crossroads when he moved to Northern Districts ahead of the 2011/2012 season.
He was picked for New Zealand in late 2012 - more on potential than statistical substance - and hasn't looked out of place for the Black Caps and has now appeared in all three forms of the game for his country.
Wednesday marked only the seventh time Anderson had played a one-day game for New Zealand but when you produce an innings like he did - an unbeaten 131, which included 14 sixes as he brought his hundred up in 36 balls - people will start to hold giant expectations.
As Patel, who coached the New Zealand under-19 side in Malaysia, cast his mind back to February 27, 2008, he said there was no questioning the talent of a kid he first laid eyes on as a teenager.
"I saw him obviously playing at age-group levels and at a very young age he was always a young fella that was a lot bigger and a lot stronger than age-group boys at times," Patel recalled.
"He always had the potential to be a very good striker of the ball and he always showed that he would go all the way at some stage. It was just a matter of time and being given enough time to progress.
"He was always an exceptionally big hitter of the ball and it was a matter of whether he could put it together and structure a proper innings and I think what he displayed on Wednesday, albeit in a shorter-form game, hopefully he's learned from that and he kicks on now."
Anderson is part of a potentially golden generation of New Zealand players from that under-19 World Cup.
Patel's squad in 2008 featured current internationals Kane Williamson, Tim Southee, Trent Boult, Hamish Rutherford and Anderson, while first-class players George Worker, Michael Bracewell, Anurag Verma and Nick Beard are all thought of highly.
"It's fair to say those boys performed really well during the World Cup and subsequently they've gone on and proved to be well worthy of what their talent suggested at the time," Patel said.
"I think we are finally seeing the fruition of their talent."
One man who saw the talent of Anderson, even before Patel, was former Christchurch Boys' High School first XI coach Neil Fletcher.
Fletcher wasn't surprised to see Anderson's record-setting knock this week because he knew the 23-year-old always had something about him as a player. "The first time I saw him he was more of a bowling all-rounder but he could always hit a clean ball," Fletcher said. "So when he sort of came under my wing at Boys' High, it was more about turning him into a batsman. At a young age, I remember talking to him and his parents, we were going to bat him at four or five, so he could just learn batsmanship about making the right decisions about what balls to hit, what balls not to hit because he could always hit a big ball. So it was just about him developing his decision-making skills, really."
Anderson was part of Christchurch Boys' High School's treble of Gillette Cup trophies between 2005-2007 - the victories in 2005 and 2006 were shared titles - and Fletcher said one Anderson innings always stood out to him.
"I think it was his first tour to Australia, we played a Bathurst team and he smashed 180 off 90 balls or something and I remember getting interviewed then and saying how far is this guy going to go and I knew he could definitely go all the way. He's just got that X-factor ..."
There's no doubting the talent has always been there, now it will be fascinating to see if Anderson can produce results with some form of consistency.
Afridi praises mystery man
Pakistan all-rounder Shahid Afridi sent Corey Anderson a message of congratulations at beating his record, set against Sri Lanka in Nairobi, but admitted he had never heard of the New Zealander who made his one-day international debut against England in Cardiff.
"I never heard his name and early morning my nephew told me about his feat and I sort of said the first news of 2014 is of my record being broken," Afridi said.
"But I must say it's a great achievement and Anderson deserves all the praise. It needs a super effort to score a hundred off 36 balls.
"Records are meant to be broken and I knew it would be broken some day.
"I sort of wanted this record to stand until I retire because it has been a big pride for Pakistan and for me and whenever my name comes the record is mentioned," said the Pakistani.
"Now Anderson's name will come but I am sure with the advent of Twenty20 cricket this record will surely be bettered in the future," he said.