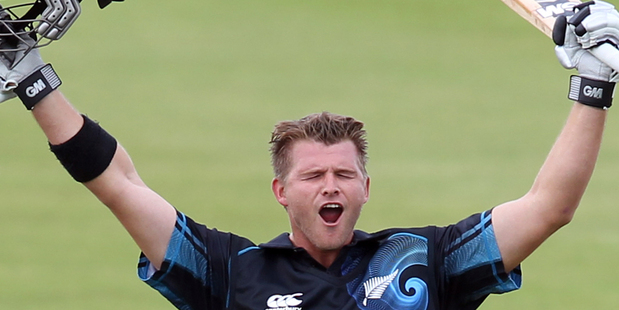 ''It is probably only ever going to happen once for me,'' Corey Anderson suggested.
You would settle for a day like that too.
The strongly-built all-rounder smashed the fastest century in the history of the game yesterday, whacking 12 sixes and four fours in a 36-ball century against the West Indies at the Queenstown Events Centre.
Yes - 36 balls. One quicker than Pakistan's Shahid Afridi managed in 1996.
There were 22 sixes in the New Zealand innings and Anderson was responsible for 14 of them.
Jesse Ryder chipped in with five. Poor old Ryder. He played a completely fabulous knock which, on any other day, would have been penned in heroic terms.
He also scored a century, from 46 balls. It was quite a day.
The Black Caps posted 283 for four. The West Indies looked demoralised at the break and batted like it, reaching 124 for five. The Black Caps won by a staggering 158 runs in a rain-affected one-day international, which had been reduced to 21 overs. The series is locked at one game apiece. It is hard to see the West Indies rebounding from such a clobbering.
Black Caps captain Brendon McCullum played a nice little cameo, whacking 33 from 11 deliveries to kick-start the onslaught but the day belonged to Anderson, who was undefeated on 131 from 47 deliveries.
He was unaware he had eclipsed Afridi's world record when he swatted yet another six to raise the milestone.
''He'll probably try and beat it,'' Anderson joked.
The bat Anderson used so wonderfully was one Ross Taylor had given him and he suggested Taylor might want it back.
Getting to celebrate a hundred of his own and to be there when Ryder reached the milestone as well was ''the best feeling I ever had on a cricket field''.
West Indies captain Dwayne Bravo suggested Anderson might be useful in the IPL playing alongside him in Chennai Super Kings.
''I'm happy where I am at the moment in New Zealand and I guess I'm still trying to cement my place, as well,'' Anderson said.
He can rest assured. His spot is safe for the next match in Nelson on Saturday, at least.
Runs actually looked like they might be at a premium early, when Martin Guptill played at and missed at three consecutive deliveries from Jason Holder, before he managed an edge. McCullum's response was to charge the same bowler and whack him down the ground for consecutive boundaries. Anyone else would have walked slowly to the wicket, telling themselves the pitch was a green seamer. Not McCullum. The madly positive skipper, who would have bowled first if he won the toss, smashed 24 off his first five deliveries to turbocharge the innings.
Ryder got off the mark the only way he can - with a push for one which was so sweetly timed it sped to the cover boundary. The man makes batting look impossibly easy and joined McCullum in the assault on the bowling.
New Zealand reached 50 from 26 deliveries. For the crowd, who had stuck it out all day waiting for some cricket, it was ample reward. McCullum holed out but more wonderful stroke play was on offer.
West Indies strike bowler Ravi Rampaul had an over to forget when he was hit for four consecutive sixes as Anderson got into his stride, moving from frenetic to crazed.
The West Indies suffered a big loss before play got under way. Explosive all-rounder Darren Sammy was sprinting during a training drill and came to an abrupt halt. He reached around quickly and, in obvious pain, grasped at his right hamstring. He had to be helped from the field.
The 30-year hobbled his way through the first test with a similar complaint but was unable to take his spot in the playing XI.
His injury is the latest in a series of setbacks for the tourists. Marlon Samuels was forced to quit the tour because of a chronic wrist injury. West Indies batting supreme Chris Gayle was ruled out before the tour started. Classy batsman Darren Bravo returned home for personal reasons and, last month, spinner Shane Shillingford was banned by the ICC for an illegal action.