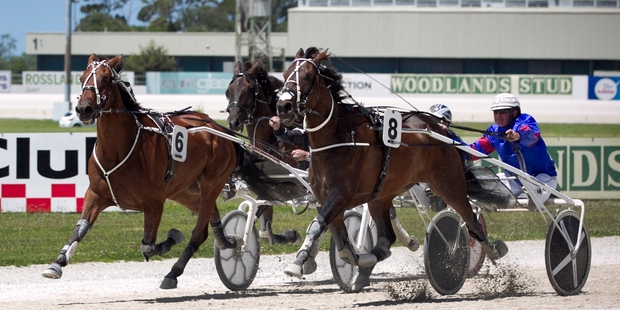 Tony Herlihy is set to turn his back on over $600,000 worth of Australian riches in one month with Irish Whisper - all for the good of the horse.
The one-time rogue produced a belligerent performance to nose out Stent in yesterday's $80,000 National Trot at Alexandra Park after being clearly headed by the favourite at the 150m mark.
To do so in a fast time after pulling hard and doing himself few favours early stamped Irish Whisper as a contender for the serious trotting races ahead in the next five months.
The highlight of those is a magic March in which he could race for well over $600,000 in Australia in races like the Glenferrie Farm Challenge and Great Southern Star.
But Herlihy says that could be too soon mentally for Irish Whisper.
"He is the sort of horse a trip like that could undo him," says Herlihy.
"He has taken some sorting out and is still lightly raced so I'd like to keep him here, aim at the Rowe Cup and then maybe we could look at Australia next season."
That will mean Herlihy has to calm down owner Murray Notman, who could barely talk for laughing with shock during his acceptance speech.
"I didn't think we could beat Stent and to do it like that is something special," says Notman. "That is my first group one winner since This Time Franco in 1991 so you can understand why I am a bit excited."
Notman took a big gamble buying Irish Whisper 18 months ago when he was a raw-boned trotter from the stable of southern supremo Phil Williamson.
Improving on Williamson is a daunting task for any trainer but Herlihy is close friends with the southern trainer and says Irish Whisper owes much to his early education.
Herlihy earlier took over wonderful trotting mare One Over Kenny from Williamson and guided her through to winning more than $1 million and while Irish Whisper may not have her class he has her toughness.
"He had to be good out there today and the couple of times recently I have had to really ask him for something he has dug deep, which is so important for the trotters.
"So, here is hoping he keeps going in the same direction and I think he will."
He will need to as well, as the trotting ranks are about to be bombarded by some outstanding 4-year-old talent.
Already Habibti and Blitzthemcalder have looked superstars this season, while Prime Power remained unbeaten in four starts this season when easily overcoming a 20m handicap in a strong intermediate field yesterday.
Add in the likes of Royal Aspirations and the older Master Lavros, who has already won a Dominion Hcp, as well as Stent, who is still only a 5-year-old, and the new era of open-class trotters has arrived.
That was never more evidenced by a separate but related event yesterday - the great I Can Doosit led out the field for the National Trot, his first public appearance since being retired.